Not sure how well this is gonna go over but..
by
Curt
on Tue Apr 07, 2009 1:01 pm
why the hell not.
someone come up with a base riff for a song, just repeat it for about a minute or minute and a half, then anyone else takes a shot at writing a lead guitar part over it.
I got this idea a friend at the ESP boards
Help on learning a song by Ear
I've just begun learning songs by ear and I'm currently trying to learn this song. I have already figured out the main intro/chords. I read after you find out the chords you can figure out what the rest of the songs key is or something like that and I'm not really sure what that means.
The song:
http://www.youtube.com/watch?v=ZtHDsyTYWyg
Heres what I have so far (tempo not exact, just listen to the song and you can figure it out)
I'm trying to figure out the intro solo type thing that begins around 0:10
Any help on how I could figure the notes out would be really appreciated. And I'm not asking for you to tab it just to tell me or give me some tips on how I could figure it out.
I decided to take a little break this evening inbetween sessions of gorging on chocolate just to post up a quick lesson on using a metronome. When learning to shred, or even to play guitar at all it's always best to use a metronome, it keeps you in time, gets you used to following a drummers beat and can help you dramatically in increasing both speed and accuracy. In other words, what's not to like about a metronome?!
They're also cheap as chips, you don't have to splash out loads on one, there are some tuners have built in metronomes for example, there's a metronome function in Guitar Pro which is dead handy, and I think there's even an online metronome program which you can use, so there's absolutley no excuse for not having access to one.
Anyway, in 4/4 timing there are 4 beats in a bar as you probably all already know, which on a sheet will look like this:
Each of those little X's count as a beat, and it's these beats you have to follow.
It'll sound like this:
Boof. Boof. Boof. Boof.
Well... maybe not
exactly
like that, but hey, I ain't no drummer!
The simplest way to start using your metronome is to match a note on your guitar with a beat from your metronome, so for each of the above beats you're going to play a quarter note of your choice on the guitar.
For example: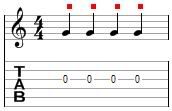 I've marked out the drumbeats in red dots so you can see where the beat is and where the notes are. So it should sound like this:
Boof. Boof. Boof. Boof.
Dong. Dong. Dong. Dong.
You can use that for open notes, fretted notes, scales, chords or licks. Here's some examples, all following the same pattern - as the metronome makes a tick, you hit a note/chord/whatever: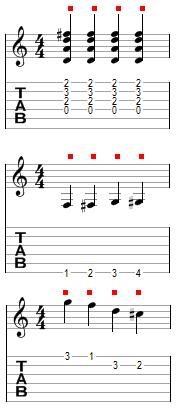 Now, that's all fine and dandy, to a point. And that point is when you stop and think "Right, so.. what about inbetween drum beats and all that stuff?" Well, I'm gonna get to that now.
This is called subdivision, wherein you divide each beat by a certain number. That might sound odd, but put plainly it means that for every beat that's played, you play suchandsuch amount of notes.
For instance, instead of playing quarter notes we'll use eighth notes instead: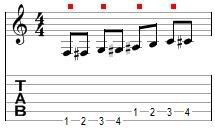 You get the idea right? For every one beat the metronome plays, you play two, effectively dividing the beat in two.
The same works for sixteenth notes (4 notes for every beat), thirty-second notes (8 notes for every beat), sixty-fourth notes (ouch!) etc etc.
To use your metronome to increase your speed you're going to want to set it at a tempo you feel comfortable at. If you're learning songs or licks, try them at around half the tempo they're usually played at. For example: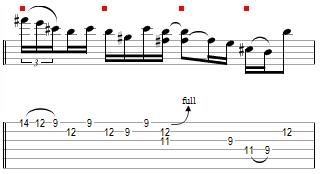 This lick is meant to be played at 125 bpm, but in order to learn it correctly, I'd bring the tempo down to 60 or so. Any tempo will do so long as you're comfortable with it. If you feel like you're pushing too hard or you're straining to hit the notes cleanly each time, everytime - slow the fuck down!! It's about muscle memory and smooth motor control, not speedy gonzalés - not at this stage anyway.
Once you got the lick or scale or riff down at that tempo and are comfortable with it, knock it up 10 bpm. If that's too fast for you, slow it down until you can hit it alright. Keep doing that and increasing in small increments each time until you reach your desired tempo, or keep on climbing!
It'll be tedious work, and it will definatley be boring, but if you enjoy something you won't even notice the time go in. What you WILL notice however is that you'll become cleaner, faster and a better time keeper. That's definatley worth the work imo.
Anyway to finish up, to those of you who made it this far through the onslaught of text, you seriously need a life!
Seriously though, thanks for reading - if there's any questions, criticisms, comments or queries or if you feel I've left anything out don't be afraid to comment. Thanks for your time, and happy shredding.
Peace, Love, Light and Sound,
- Ryan