Archives

2013

Sep, Oct, Nov, May, Mar, Jun, Jul, Jan, Feb, Dec, Aug, Apr

2012

Sep, Oct, Nov, May, Mar, Jun, Jul, Jan, Feb, Dec, Aug, Apr

2011

Sep, Oct, Nov, May, Mar, Jun, Jul, Jan, Feb, Dec, Aug, Apr

2010

Sep, Oct, Nov, May, Mar, Jun, Jul, Jan, Feb, Dec, Aug, Apr

2009

Sep, Oct, Nov, May, Mar, Jun, Jul, Jan, Feb, Dec, Aug, Apr

2008

Sep, Oct, Nov, May, Mar, Jun, Jul, Jan, Feb, Dec, Aug, Apr

2007

Sep, Oct, Nov, May, Mar, Jun, Jul, Jan, Feb, Dec, Aug, Apr

2006

Sep, Oct, Nov, May, Mar, Jun, Jul, Jan, Feb, Dec, Aug, Apr

2005

Sep, Oct, Nov, May, Mar, Jun, Jul, Jan, Feb, Dec, Aug, Apr

2004

Dec
Aug 2006
new DIME related tattoo today...
Just getting back from the tattoo shop with my newest Dime related ink. It was inspired from the drawing Charlie Benante (Anthrax) did on one of the Dean guitars in the Dean/Dime art tribute. Charlie is a huge Simpson's fan, and this was his interpretation of Dime if he was a "Simpson". I too am a huge fan of the show, and as soon as I saw this at Winter Namm 06, I knew wanted it as a tattoo. Had always wanted a Simpson's related tat, and this was perfect.
I will post some better pics later as it heals, this one was taken quickly in poor lighting, so the actual color doesn't show as nice as it actually is. The photo below does NOT do the actual tattoo justice.
*updated* This was done at Lucky 7 tattoo in Libertyville, Il. I have had my last 5 tat's done there. The lady who did it has a website you can check out here name is Sandy, the site is
WWW.SANDYPOPE.COM
.
Enjoy-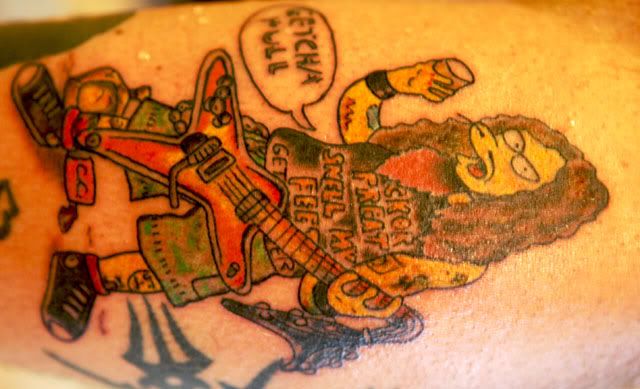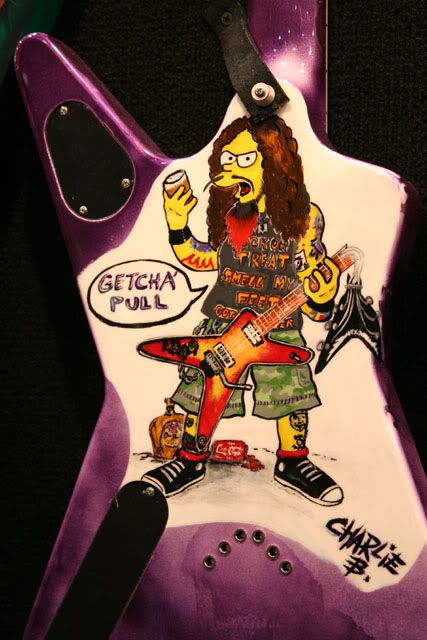 view all blog entries...
---
Please visit us at DeanGuitars.com.