Archives

2013

Sep, Oct, Nov, May, Mar, Jun, Jul, Jan, Feb, Dec, Aug, Apr

2012

Sep, Oct, Nov, May, Mar, Jun, Jul, Jan, Feb, Dec, Aug, Apr

2011

Sep, Oct, Nov, May, Mar, Jun, Jul, Jan, Feb, Dec, Aug, Apr

2010

Sep, Oct, Nov, May, Mar, Jun, Jul, Jan, Feb, Dec, Aug, Apr

2009

Sep, Oct, Nov, May, Mar, Jun, Jul, Jan, Feb, Dec, Aug, Apr

2008

Sep, Oct, Nov, May, Mar, Jun, Jul, Jan, Feb, Dec, Aug, Apr

2007

Sep, Oct, Nov, May, Mar, Jun, Jul, Jan, Feb, Dec, Aug, Apr

2006

Sep, Oct, Nov, May, Mar, Jun, Jul, Jan, Feb, Dec, Aug, Apr

2005

Sep, Oct, Nov, May, Mar, Jun, Jul, Jan, Feb, Dec, Aug, Apr

2004

Dec
Apr 2008
My one of a kind Dimebag tribute ML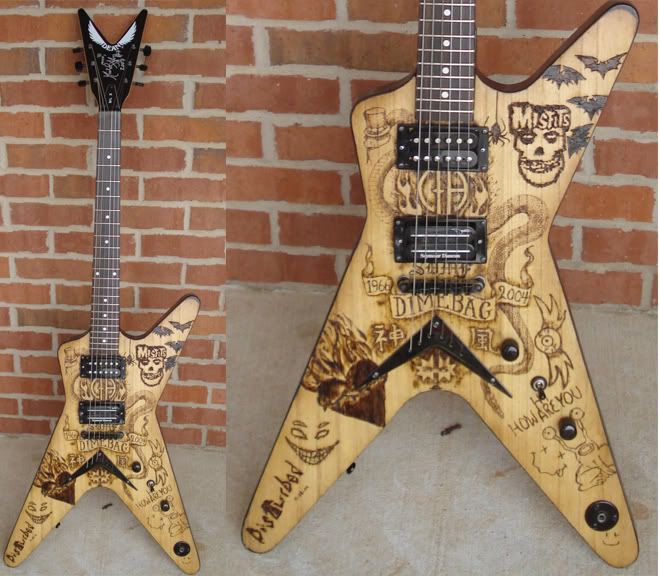 I bought an ML-X specifically to try my hand at burning in some graphics. Because it was an experiment for my own personal use, I decided to get my kids to help. One did the upper horn, and the other two took the bottom two horns while I did the middle part. I asked them just to do something that reflected their own personal musical taste. Obvioulsy, the Misfits, Disturbed, and Nirvana took their place, but I got the middle to dedicate to Dime, and his friends (Zakk, Ace and Eddie can be found there somewhere, as well as nods to Slash, and Lynch.
I'm planning to buy another one to give it a more organized, Dime only look, but thought you might like a look at this one.
P.S. Michael Angelo Batio signed the headstock at a clinic, completing my collage of guitar greatness.
view all blog entries...
---
Please visit us at DeanGuitars.com.