Archives

2013

Sep, Oct, Nov, May, Mar, Jun, Jul, Jan, Feb, Dec, Aug, Apr

2012

Sep, Oct, Nov, May, Mar, Jun, Jul, Jan, Feb, Dec, Aug, Apr

2011

Sep, Oct, Nov, May, Mar, Jun, Jul, Jan, Feb, Dec, Aug, Apr

2010

Sep, Oct, Nov, May, Mar, Jun, Jul, Jan, Feb, Dec, Aug, Apr

2009

Sep, Oct, Nov, May, Mar, Jun, Jul, Jan, Feb, Dec, Aug, Apr

2008

Sep, Oct, Nov, May, Mar, Jun, Jul, Jan, Feb, Dec, Aug, Apr

2007

Sep, Oct, Nov, May, Mar, Jun, Jul, Jan, Feb, Dec, Aug, Apr

2006

Sep, Oct, Nov, May, Mar, Jun, Jul, Jan, Feb, Dec, Aug, Apr

2005

Sep, Oct, Nov, May, Mar, Jun, Jul, Jan, Feb, Dec, Aug, Apr

2004

Dec
Dec 2009
How to wire up PQ4 to HUSH II C (both channels)
Hi guys
I'm running a guitar to WH-1 whammy to ZW OD to Dime wah to low in (PQ4) and low out (PQ4) to
tuner then to MXR 6 band to Century 200 low in on the front.
Firstly I've had the PQ4 for a couple of days and this connection is the best sonding.
(Pedals to PQ4 to front of head). I guess this is what you call running the PQ4 infront?
I tried the pedals to the head then the the low in (PQ4) to the FX send on the randall and the low out (PQ4) to
the FX return on the randall.
I think this what you would call running the PQ4 in the effects FX loop of the head?
This worked but I got better results running it infront which i'm happy with.
Secondly I have 2 different HUSH IIC units. (They came as a pair).
So i'm running a guitar to WH-1 whammy to ZW OD to Dime wah to low in (PQ4) and low out (PQ4) to
tuner then to MXR 6 band to Century 200 low in on the front.
And in the FX loop I'm running 1 channel of the top HUSH unit in the pics below.
The unit has 2 channels. Channel 1 input and output and channel 2 input and output.
I have the FX send to input and FX return to output in one channel.
Is this the best place for the Hush and can you use both channels and if so how do I connect it all up? Probably a retarded question but I am a jackass
Any other suggestions about the order in which things will sound better will be appreciated (tuner first and MXR last, wah first etc...)
Cheers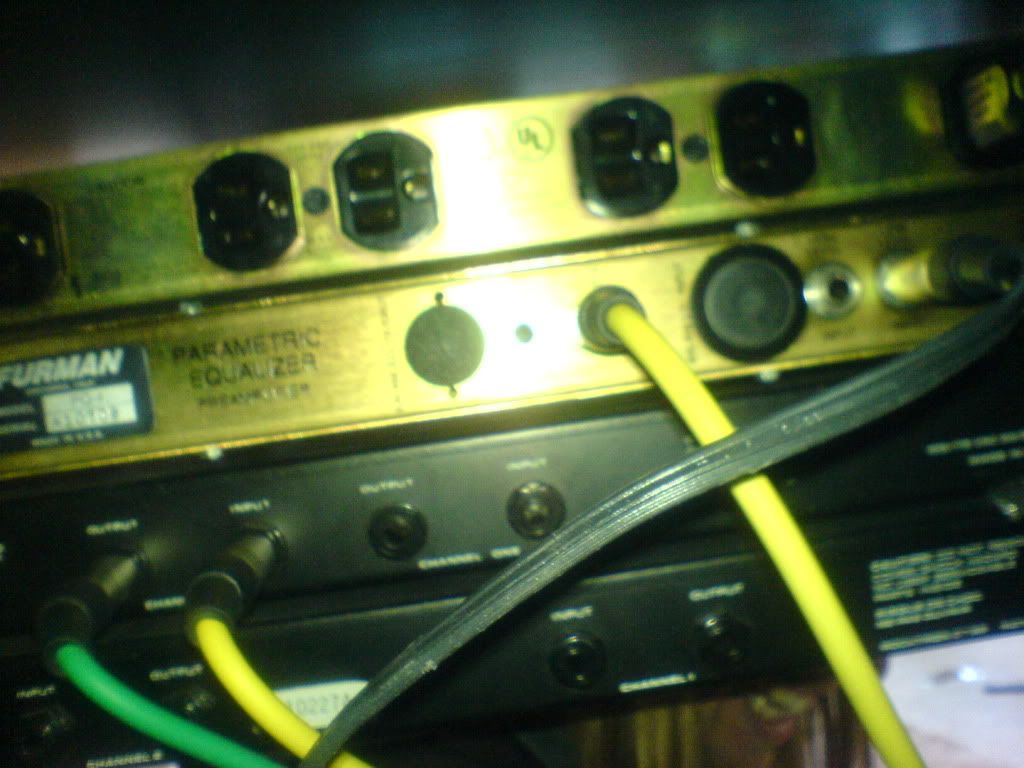 view all blog entries...
---
Please visit us at DeanGuitars.com.