The journey to Texas..., *PrOnZ added*
In case you don't want to scroll down, here's what my buddy Mitch made: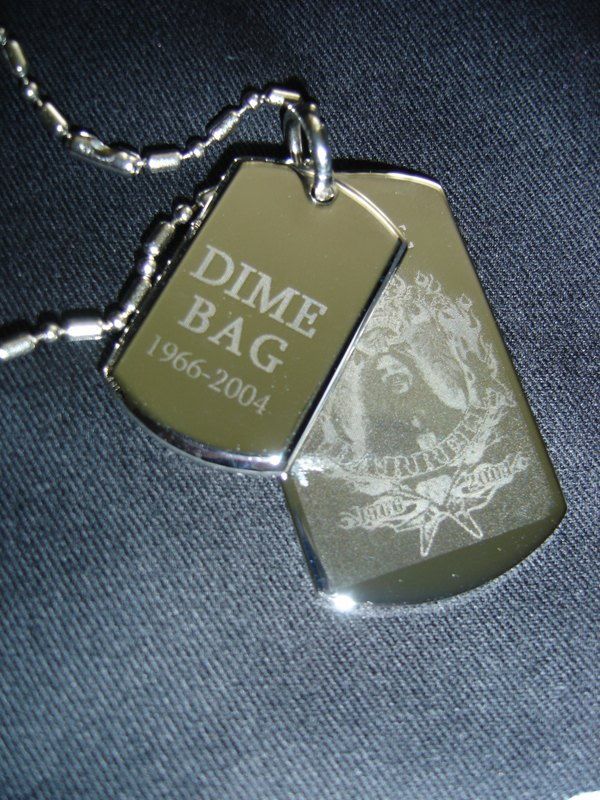 So, my buddy (also my old guitar player) calls me to tell me that he'll be visiting Montreal from Myrtle Beach (last week), and he's gonna make me a cool "one off" gift (knowing I'm a Dime fan). I said I'd throw a few buck$ his way to make some extras, but he won't take money from me. He made two..., so I have one, and I decided to send the 2nd one to Texas. For years now, I've wanted to drive my USA built motorcycle back to it's homeland, South of the border. So today was the day. Here's the journey in pictures:
2 small custom gifts made in Myrtle beach by my buddy Mitchell. No pics available..., but here's some pics of me and Mitch. Mitch made the gifts, he's in the middle:
I bet he misses his hair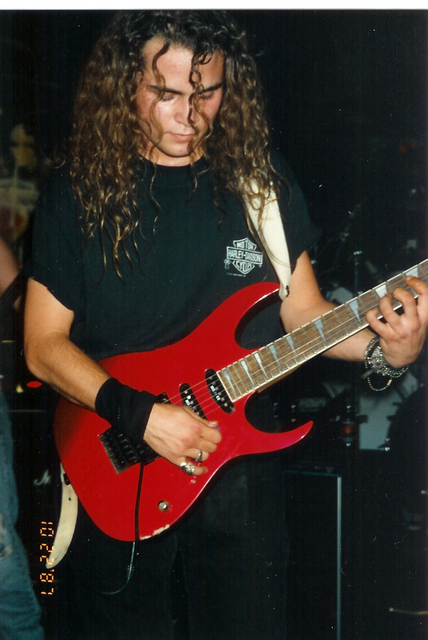 Got my wallet, my passport, and the gift ready to be mailed to Texas:
Gift about to leave South Shore Montreal: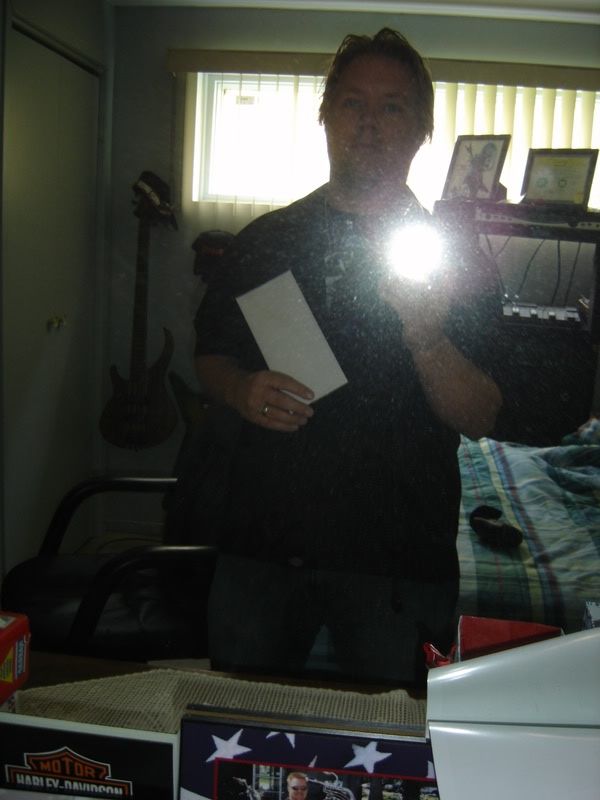 It's for Mr Rottingcorpse, so I better store it some place safe
He'll say that he used rubber gloves to open it..., but he'll probably just sniff it.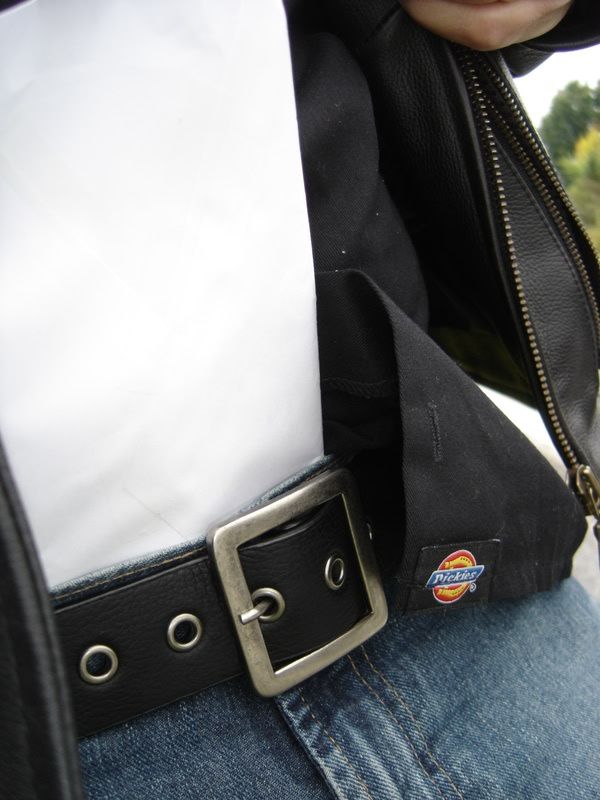 Bike and the gift warming up in my driveway, chilly this Morning:
"Service au Volant"..., "Fly Thru Service"..., ahhh, French Canada!!! Good coffee there though.
Highway 30 heading to the 15. Then to interstate 87 South. Delivery service with style:
While we're talking "style", how 'bout my buddy Richard's bike (Slick Rick)..., owner of "Slick Styled Steel" Tattoo & body piercing:
http://www.slickstyledsteel.com/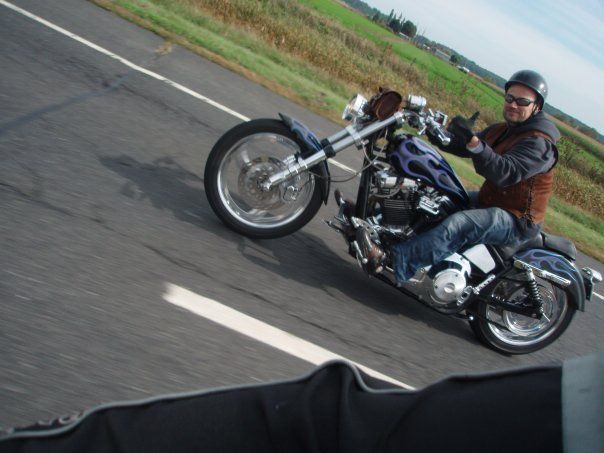 Always bring a mechanic when you've got an old bike in the pack
Hey Marco!!!
Fat ass on that......., Harley
Fat fender, ya know?!?
Me leading the pack..., hey, isn't that a song?!?
"Douanes" is french for "Customs". One kilometer (about half a mile to the border)..., ahh, so close: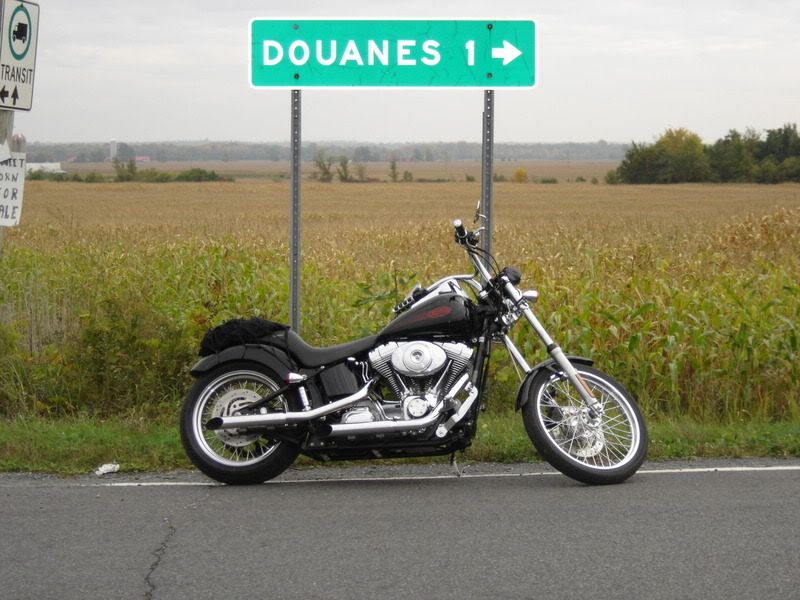 Ahhh..., U.S of A!!! Finally:
Here's the gift on a highway sign..., hopefully the postman will know to take it South, not North
My buddy "Cricket" at the post office..., don't lose that envellope!!!
I'd post pics of the gift, but it's a surprise. I'll post some once it arrives South. I tell ya..., if it weren't for family obligations, I would have driven the thing all the way to Arlington!!!
Maybe next time