Zoltan Bathory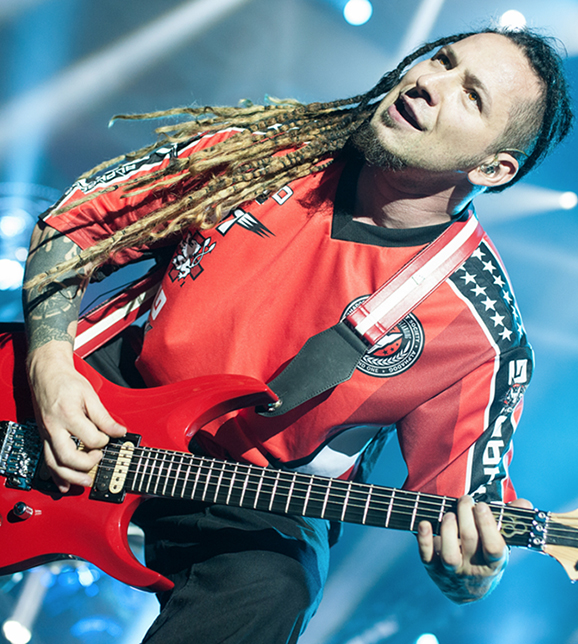 Dean Guitars is very excited to welcome Zoltan Bathory of Five Finger Death Punch to the Dean artist family!

As guitarist, songwriter and a founder of Five Finger Death Punch, Zoltan Bathory has taken the metal community by storm. Bathory's intense playing earned him the Best Shredder award in Metal Hammer's 2010 Golden Gods Awards.

With their new album, The Wrong Side of Heaven and the Righteous Side of Hell, Volume1, NOW AVAILABLE, and Bathory's new signature Dean AR-6 Stealth, Zoltanand Five Finger Death Punch are at the top of their game.

Zoltan is currently ripping up the Rockstar Energy Drink Mayhem Festival with an arsenal of Dean Guitars. We're super stoked about working with this awesome guitarist! See them live and hear the AR-6 at full blast!!
Guitars
Bio
Video
FFDP Biography
It's easy to believe everything you're told. It's easy to blindly accept what's culturally deemed good and evil. It's easy to allow lines to divide black from white. It's easy to close your eyes, shut off your mind, and follow the "normal" path set out by society. True artists don't conform though. Dogma holds no weight for them, and rules burn up in the flames of their tenacity and creativity. They consistently go against the grain and challenge the status quo.

Five Finger Death Punch didn't take the easy road on their fourth and fifth albums, The Wrong Side of Heaven and The Righteous Side of Hell Vol. 1 & 2 [Prospect Park/EMI]. The gold-selling, chart-topping Las Vegas quintet—Ivan Moody [vocals], Zoltan Bathory [guitar], Jeremy Spencer [drums], Jason Hook [guitar], and Chris Kael [bass]—fire off their most enigmatic, engaging, and empowering salvos yet. Open up your mind, raise your fist, and dive into The Wrong Side of Heaven and The Righteous Side of Hell Vol. 1 & 2.

Putting out two albums in the span of a year might seem lofty to some, but Five Finger Death Punch are no strangers to trumping the expectations of others. Against all opposition, the outfit tirelessly strived to reach the top of heavy metal since forming in 2006. Their first three offerings The Way of the Fist in 2007, War is the Answer in 2009, and American Capitalist in 2011 each stand certified gold with cumulative sales in excess of 4 million worldwide. Over the course of those releases, they achieved ten consecutive Top Ten singles at Active Rock Radio—including their very first #1 at the format "Coming Down" in 2012. Their music has been featured prominently everywhere from NBC's Criminal Minds to the Madden video game series. Then, American Capitalist debuted at #3 on the Billboard Top 200 with over 90,000 units sold first week, solidifying their status as a bona fide and undeniable mainstream juggernaut.

However, they've upped the ante in all aspects on their fourth and fifth offerings, respectively. They entered The Hideout Studios in Las Vegas with longtime producer Kevin Churko [Ozzy Osbourne, In This Moment] in November 2012 with one goal. "We want to write real songs," declares Zoltan. "The songs are what matter at the end of the day. We maintain a write everything policy. We write whatever comes to us instead of trying to create rules for what we're going to do. This time, we jumped in headfirst and found ourselves with almost thirteen songs done fairly quickly. However, we were still coming up with better material, so we looked at each other and said, 'Okay, why stop there? Let's keep going.' Once we hit song 24, we knew we'd have to put out a double album."

"There's one chance to really make a ripple in the music industry," continues Ivan. "How do you send a fucking shockwave and get their attention? Well, you piss everyone off and really hit their nerves. You've got to do something that's uncalled for and unforeseen to tap that last nerve. In our case, that's put out two albums."

Zoltan adds, "It just felt right. When you have a body of 24 songs, you've got the chance to experiment and write a few progressive or outside-the-box songs that would've been too much of a departure if you only have ten song slots to play with."

Doing two albums allowed them to evolve like never before. Not only is this their deepest body of work, it's their most dynamic. For the first time in their career, the band invited some legendary friends to join them. Iconic Judas Priest singer Rob Halford lends his inimitable pipes to the first single, "Lift Me Up". After hearing him profess his love for the band, they had to reach out for a potential collaboration. Alongside Halford, Five Finger Death Punch take flight to soaring heights on one of their biggest anthems thus far.

"We grew up listening to Judas Priest," smiles Zoltan. "They were a huge influence, and Rob is 'THE' metal god. The whole experience was completely surreal. He was driving around Vegas with us talking about the crazy road stories. When we got to the studio, we picked that song because it already had an old school metal vibe. It completely fit his voice, and it gives us a different color and texture."

For Ivan, the lyrics prove apropos of the band's place. He explains, "Honestly, the song basically says, 'Elevate me. I need a cause. I need a reason. I need life. If I can't have it, what's the point?' Rob heard it and wanted to sing on it. How much of a fucking honor is that? It's immense."

Elsewhere, Soulfly mainman Max Cavalera's primal roar punctuates the bombastic and brutal "I.M. Sin", while Hatebreed's Jamey Jasta injects moshpit-splitting fury into "Dot Your Eyes and Cross Your Teeth". The biggest musical departure happens on an irresistible and infectious cover of LL Cool J's classic "Mama Said Knock You Out" with none other than rap titan Tech N9ne.

"Hip-hop and metal came together in the early 2000s, and it was acceptable," Zoltan goes on. "So we would not have done it back then since that was the norm, but today, it's totally unexpected, it's a taboo because it's just a magnet for the haters. We live for that shit; it's fun watching them get bent out of shape. Still, first and foremost the song had to work and when Tech came out to the studio, we just clicked it. It came out killer." However, Five Finger Death Punch also personally open up more than ever. There are searing moments of vulnerability such as the plaintive and poetic "M.I.N.E." and "Cold", and then there are violent, vicious, and vibrant explosions of riffs and screams in the form of "Burn Motherfucker" and "Watch You Bleed".

"We weren't going to write 'The Bleeding' or 'Never Enough' again," affirms Ivan. "This was about pushing the envelope. It was about saying 'Fuck you.' It gets brutal at points, but it's also truly beautiful. It's Death Punch."

Even as they progress, Five Finger Death Punch consistently remain one of the most explosive live acts on the planet. They're a mainstage attraction at international festivals including Download Festival, Rock am Ring, and Rock im Park as well as performing at Metal Hammer's "Golden Gods" Awards. Stateside, they've topped Rock on the Range, Welcome to Rockville, and more. Following their journey, they helped launch the very first Rockstar Energy Drink Mayhem Festival in 2008 on the second stage, and in 2013 they're co-headlining it with Rob Zombie.

Ultimately, Five Finger Death Punch's ethos of perseverance, passion, and power stands encapsulated in the idea behind the title The Wrong Side of Heaven and The Righteous Side of Hell Vol. 1 & 2.

It means "Question everything," affirms Zoltan. "We don't have the right to tell you what to think, and what to believe in. Nobody does. But artists have a unique opportunity to pose questions on a global scale. That's what we did with War Is The Answer and American Capitalist, and that's what we're doing once again with this title. You figure it out what it means to you."

He expounds upon that idea, "As humans, our notions about good and evil are carved in our minds. However, we were imprinted with those ideas by our environment — whether it's religion, the government, or school or society in general – a third party etched that duality in your mind. As a result, people draw boxes around themselves and live their lives in those mental cubicles, bound by these fictitious guidelines. We're not trying to further polarize and denounce what we've been told is right and wrong, but we are encouraging you to form your own opinions. Don't believe everything you read, don't blindly live under somebody else's ideas and rules, and don't buckle when you are demonized for having a different opinion. Who is anyone to tell you that his or her opinion or beliefs trump yours? Even question what I said now."

The phrase itself is even closer to Ivan's heart. "One day I told Zoltan and Jeremy, 'We're truly all on The Wrong Side of Heaven and The Righteous Side of Hell'," says Moody. "The true human drama is that nobody wants to go to the proverbial cauldron... but nobody wants to exist in the place where they're inferior either. That's what bonds all of us. This is the most honest we've ever been. There's no bullshit. This is for everyone who's made this band what it is. I don't want anybody to walk away from this album—ever. I want them to hang onto it for life. We can burn together." — Rick Florino, April 2013

Five Finger Death Punch Ivan Moody – Vocals
Zoltan Bathory – Guitars
Jason Hook – Guitars
Jeremy Spencer – Drums
Chris Kael – Bass


For more information:

http://www.fivefingerdeathpunch.com/
https://www.facebook.com/fivefingerdeathpunch
https://twitter.com/FFDP