President and CEO Evan Rubinson fills key positions to focus on sales growth and brand marketing.
TAMPA, FL. (October 4th, 2018) – Evan Rubinson has solidified Armadillo Enterprises' senior management team with the additions of Ron Williams, Head of Marketing, and Vinnie Del Buono, Head of Sales. Through the extensive music industry knowledge and experience that each individual brings to their respective departments, Evan has successfully ensured that his cutting-edge philosophies, and long-term vision for the Armadillo brands – Dean Guitars, Luna Guitars, and ddrum percussion – will be embraced, adhered to, and executed flawlessly.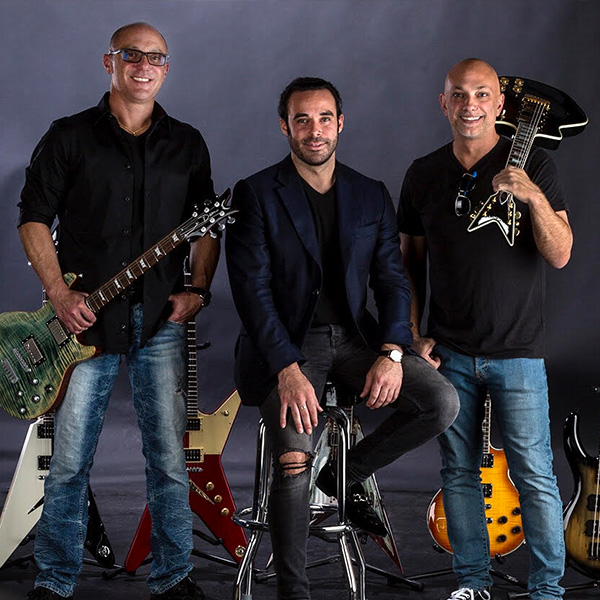 "I felt strongly that in order to take our brands to the next level, we needed to bring in fresh talent to run our sales and marketing divisions, whose skill sets better aligned with the company's new strategies and objectives. These positions' fates, as well as the company's continued and renewed success, are all closely intertwined. I couldn't be happier to not only have phenomenal individuals leading these two departments, but also to have a level of integration and synergy between sales and marketing that Armadillo has never experienced prior," said Evan Rubinson.
"To achieve the level of success that I expect from my company and brands, an intimate knowledge of the specialty aspects of music industry sales is the first prerequisite. Building upon this foundation, innate leadership qualities, an ability to relate to myriad personalities, a carefully honed repertoire of salesmanship skills, an intimate understanding of the retail as well as wholesale side of the business, and a long and proven track record of success within the music industry, make up the core of the characteristics that I was unwilling to compromise on. Mr. Vinnie Del Buono, who will be spearheading the sales department, not only embodies these ideals, but far exceeds them," continued Rubinson.
Del Buono comes to Armadillo with over twenty years of success in MI, including fifteen years with Guitar Center in positions ranging from Sales, General Manager for flagship locations, to Senior District Manager. During his tenure with Guitar Center, Del Buono received two President's Awards for consistent, annual, multi-million dollar sales growth, as well as multi-channel business development and new business strategies.
"It's an exciting time for Armadillo Enterprises, and it's an absolute honor to partner with Evan Rubinson and the entire Armadillo family, in order to work toward the realization of his vision of elevating our brands to new heights," said Del Buono. "I look forward to serving our ever-expanding dealer network in order to bring Dean, Luna, and ddrum products to more and more end users across the globe."
In looking for a marketing lead, Rubinson took a slightly less traditional approach. "While my father built Armadillo into what it is today as a long-time music industry veteran, it's no secret that I did not share the same degree of music industry experience. However, having grown up being constantly exposed to the music industry and all of its ins and outs has allowed me to blend intra-industry knowledge with extra-industry perspective. This uniquely valuable outlook has enabled me to combine the best aspects of two different worlds in order to revolutionize the strategic approaches that the Armadillo brands now rely on when going to market. I was determined to procure a marketing lead who shared this unique perspective, and thereby able to adequately bridge the gap between understanding the specialized aspects of the music industry, with an outside-the-box mentality, and unencumbered creative approach. Ron Williams fits this description perfectly, "said Rubinson.
Williams' marketing career spans twenty-six years working for some of the most prominent advertising agencies in the world, where he has received multiple awards for his work in traditional, digital, social, and experiential marketing. In addition to these accomplishments, Williams has gained a familiarity with music industry culture throughout the last three years via his hand-painted artwork which has been featured on world-renowned guitar brands such as Dean and Luna guitars at myriad music festivals.
"I'm honored to be joining the Armadillo brands during this exciting time in their rich history," said Williams. "An opportunity like this doesn't come around often, and I have been a huge fan of all the brands under the Armadillo umbrella for many years. In addition, I couldn't be more thrilled to work with Evan Rubinson, and the entire Armadillo team, as we create unique and engaging ways to bring these brands to the forefront of the public's eye."
Del Buono and Williams will both be based at the company's expansive headquarters in Tampa, FL, and will serve as part of Rubinson's leadership and management team. The strategically-timed, joint inception of both individuals' new key roles embeds yet another layer of synergy between two of Armadillo's key departments – sales and marketing. With both individuals sharing solidarity in their fresh and uninhibited perspective, we look forward to an even deeper level of seamless integration, phenomenal efficiency, and the achievement of unparalleled productivity.
The music industry has observed a lot of positive activity from the Armadillo camp in recent months, ranging from heavy-hitting additions to the Dean artist roster, co-branded partnerships with industry-leaders outside of the musical instrument sector such as Angel's Envy Bourbon, as well as an increase in production of USA-made guitars to a level never seen before in the entirety of Dean Guitar's almost forty-two year history. The overwhelming success that the Armadillo brands have experienced in just two short years with Evan at the helm is now augmented by the carefully-selected appointments of two senior management positions which will undoubtedly further bolster the company's prospects into 2019 and beyond. The highly anticipated future of Armadillo Enterprises has never looked brighter than it does today with Evan Rubinson guiding the company into the next era.