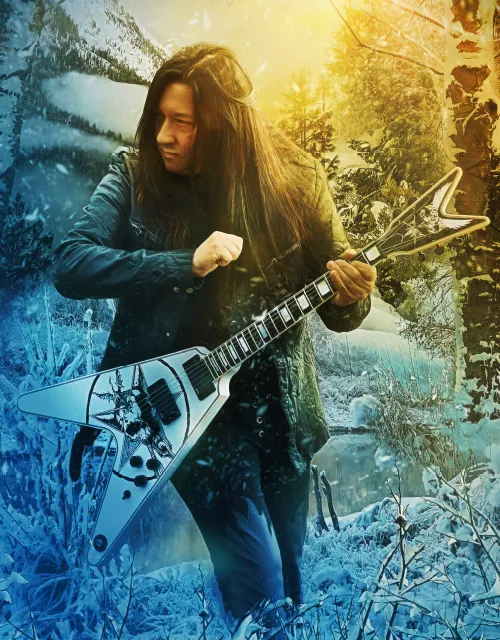 Born in Northern California in the city of Alameda and raised in Lafayette, Eric Peterson has climbed the ranks to become one of heavy metal's all time riffmasters. The American guitarist of half Swedish/half Mexican descent is the founding member of Bay Area thrash kings Testament and black metallers Dragonlord.
Raised on a steady diet of Black Sabbath, Led Zepplin, and Creedence Clearwater Revival, Eric first discovered the metal that would help shape his career as an 8th grader at a local music shop in Lafayette, The Record Exchange. There, he found "Tokyo Tapes" by The Scorpions, Iron Maiden's self-titled first album, Angel Witch's "Pandemonium," and Judas Priest's "Hell Bent For Leather."
The New Wave of British Heavy Metal was crucial in helping to form Eric's signature style. The twin guitar attack of Judas Priest's KK Downing and Glen Tipton, as well as early Iron Maiden, was an enormous influence on his playing. For leads, Eric looked to guitar soloist Michael Schenker (UFO/The Scorpions) and Uli John Roth. Over his 20+ years in music, Eric has developed his playing into a style that is easily identifiable and always innovative. Seamlessly blending melodic riffs that dance above crushing grooves, Eric's playing is heavy, unique, and always hard-hitting. With his percussive right hand technique, Eric has carved out his own place in metal.
After his first gig (a talent show at his junior high school), Eric was hooked. Having only taken lessons for a short period of time, Eric was almost entirely self-taught. He continued to practice and play on his own, and in 1983 formed his first band, Legacy. At first, local clubs didn't know how to characterize the young band, whose blend of metal and punk evolved into what is now popularly known as thrash. The band's first big show was at a packed house with contemporary thrashers Slayer and Laaz Rockit in 1984.