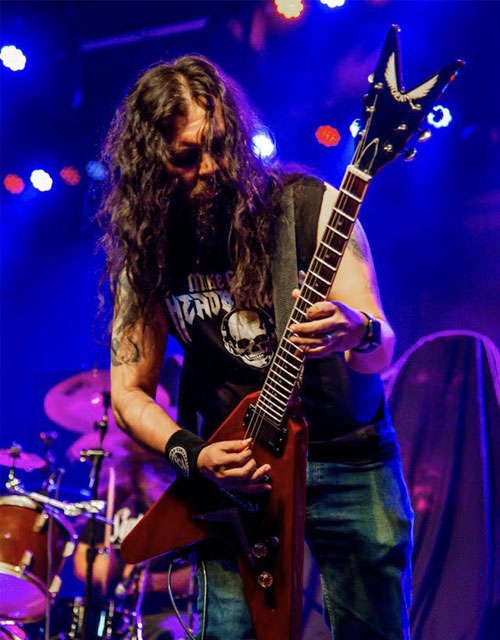 From the Band SECTAS (
www.sectasmusic.com
)Reminiscent of early Megadeth meets Rush and Alice in chains, Christian is the singer and lead guitarist of this metal melodic band with a record of 500 shows in 4 years all over Latin America and USA when they used to be signed with Sony latin division P&P records in Mexico city after that decided to go independent, recently they released Bootstrap Paradox with a big impact all over the world specially Spain, Mexico, Usa, Brazil and New Zealand, some of the most recent songs Released on their album "BOOTSTRAP PARADOX", SectaS' hit singles "INSIDE OUT" and "NO MORE" (
https://youtu.be/ZywUJQ7C7Zo
) (
https://youtu.be/mYffvSGu9uM
) is an anthem to announce their presence with profound authority.
Christian and his band SECTAS have opened for amazing national and international acts such as The Mayhem festival with SLAYER, KING DIAMOND and HELLYEAH, Queensrÿche, Y&T, Papa Roach, recently with Yngwie J Malmsteen, THE LAST IN LINE with original members of DIO Holy Diver era, including Vivian Campbell and many others. Christian Lee is endorsed by PARSON amplification, SWISSPICK guitar picks and SIT strings and recently after falling in love with the Thoroughbred Black stealth has joined the DEAN GUITARS family. The Phoenix New Times has called Christian Lee one of the
top 15 guitarists in all of Arizona
as well as one of the
top 10 vocalists
.
Phoenix New Times has also named SectaS one of the top 10 best metal shows one MUST see Sectas has a big fanbase all over the world specially in Latinamerica and now they are expanding more and more in the United States. They have a big impact on line as well.