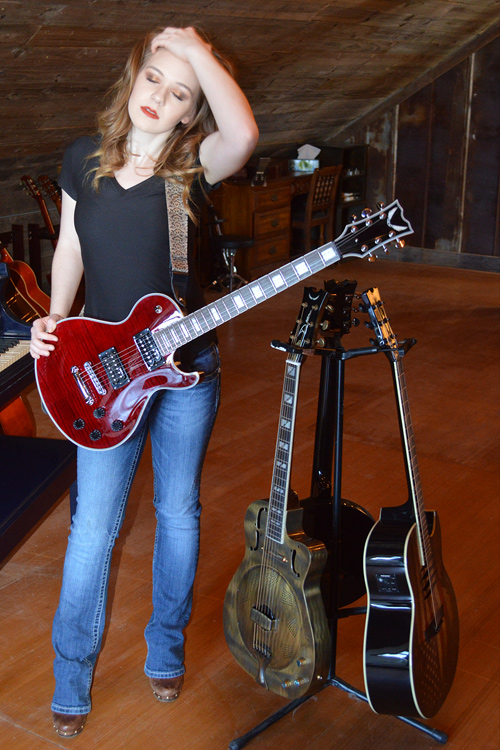 Oklahoma country-pop artist, Ciera MacKenzie (16), burst into the music scene at age 12. Her desire to play guitar and perform musically has been in her blood for as long as she can remember. After releasing her first music video on YouTube, Big & Rich's management called her to open for them in front of 15,000 people. Since then, Ciera's music career has snowballed. After numerous trips to Music City to headline major events like NAMM, Nashville Rising Star, and The Airborne Annual Convention, she was determined that her calling was in Nashville, and she relocated there to pursue her passion for music.
Since opening for Big & Rich, Ciera has had the opportunity to open for acts like, Trick Pony, Tracy Lawrence, Joe Diffie, and Mark Chestnutt. She frequents top venues such as, BB King's, Blake Shelton's Platinum Ballroom, and Douglas Corner. Ciera has earned sponsorships with Dean, Boulder Creek, Morrow Audio, Killer-Q Straps, Zuma Sport, Boss/Roland, Worn and Branded, and Gunstrong Apparel. Also from Oklahoma, Toby Keith caught light of Ciera's music and invited her to play regularly at both his Oklahoma Kid's Korral and Hollywood Corner venue. Ciera's music has earned a spot on Radio Disney Country and independent radio stations worldwide, winning multiple titles and accolades. In 2015, she was featured in a successful documentary film highlighting her musical journey, which recently debuted at the DOK Leipzig Film Festival, and will result in a follow-on film due to its success.
With musical influences like Janis Joplin and Ed Sheeran, it's clear to see where her unique, refreshing vocals and out-of-the-box lyrics stem from. Rising star Ciera MacKenzie shows no signs of slowing down; whether it's playing a showcase for major label executives, a full show with her band, or a sold-out cruise to the Bahamas, her talent, eclectic style, and warm personality do not go unnoticed.