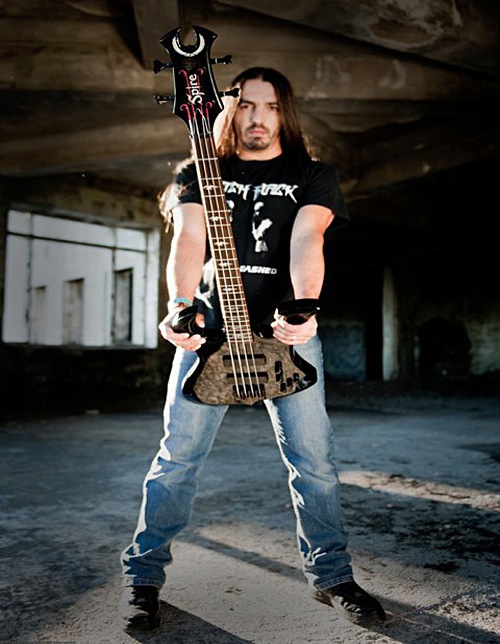 Daniel Silva joined Withering back in 1997, and recorded one demo-tape and two songs for two portugueses compilations.
In 2001 the band changed is name to Pitch Black, recorded 1 EP and two Full Lenght albuns, "Thrash Killing Machine" and "Hate Division".
First full-length CD named "Thrash Killing Machine" is released on 18th March 2005 by Portuguese label Recital Recs. It gets the reader's choice award by Loud! magazine (PT) for best 2005 album, band of the year on Thrash Never Dies (Nor) website and features the top 10 best albums on Hard N' Heavy (PT) website.Between October 2006 and February 2007, Pitch Black records the second full-length titled "Hate Division" featuring Hugo Andrade (from Switchtense) as guest vocals after the departure of ex-front man Pedro Gouveia. Recorded at Trigger Studios by Rui Danin and produced by the band and Rui Danin, the CD is mastered at Hansen Studios (Denmark) by Jacob Hansen (Destruction, Pestilence, Aborted, Hatesphere, Communic, Paradox, Nightrage).
New album "Hate Division" is released on April the 3rd 2009, once again via Recital Recs and "Hate Tour" proceeds. As usual, Pitch Black has an intense gig schedule all over Portugal, being booked once again for 2009 edition of Metal GDL and for the first time at Ilha do Ermal fest. On all shows performed between 2009 and 2010, the band shares the stage with international acts like Benediction, Obituary, Blind Guardian, Sepultura, Pestilence, Hatesphere, Textures, Angra, Tankard, Dew-Scented, Amputated, Contradiction, No Turning Back, Desecration, Legion of the Damned, Benighted, Sinister, Nervecell and others... Pitch Black are still on tour, promoting Hate Division and started to prepare their third full lenght album.
Pitch Black are still on road promoting their latest album...
Hope to THRASH you soon!!!