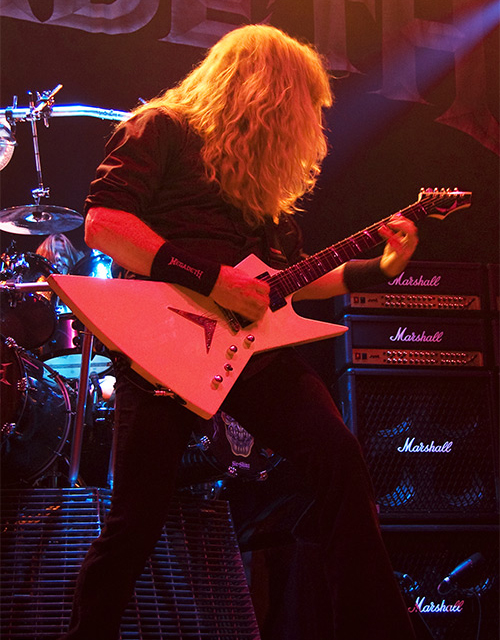 Dave Mustaine is an American musician, best known as the founding guitarist/vocalist of the American heavy metal band Megadeth, and as the original lead guitarist for the American heavy metal band Metallica. Mustaine is considered to be one of the most influential heavy metal guitarists of all time.

Megadeth is an American heavy metal band from Los Angeles, California, that was formed in 1983 by Dave Mustaine and David Ellefson. A pioneer of the American thrash metal movement, Megadeth rose to international fame in the 1980s and is ranked as one of the "Big Four of Thrash" along with Metallica, Slayer and Anthrax, who were responsible for creating, developing and popularizing the thrash metal sub-genre.

Over the band's 30 active years, over 20 different musicians have officially performed as part of the group, with Mustaine being the only constant member. Megadeth is known for its distinctive, technical instrumental style that often features dense, intricate passages and trade-off guitar solos, and for recurring lyrical themes including politics, war, addiction, personal relationships, and religion. The band has sold over 50 million records worldwide with six consecutive albums being certified platinum or multi-platinum in the United States. Peace Sells... but Who's Buying?, So Far, So Good... So What!, Rust in Peace, Youthanasia, and Cryptic Writings all achieved platinum status. Countdown to Extinction, the band's fifth and most successful record, has sold multi-platinum. Additionally, Risk has achieved gold certification. Since its inception, Megadeth has released fifteen studio albums and received twelve Grammy nominations.

In 2017, Megadeth won a Grammy Award for "Best Metal Performance" for the title track from their new album, "Dystopia".