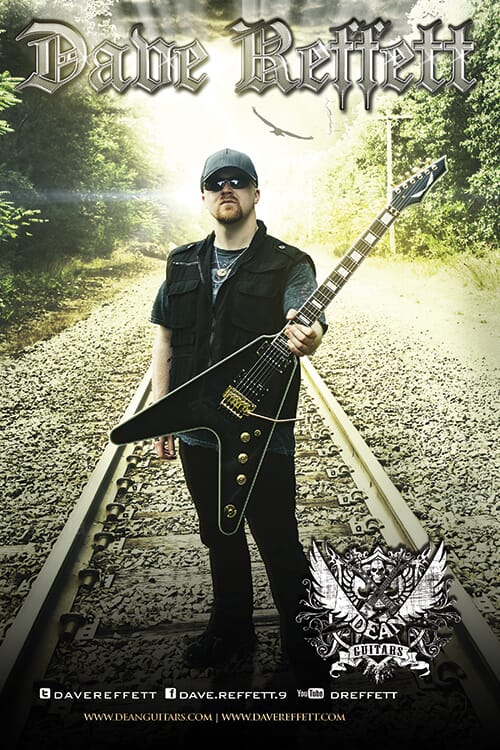 Dave Reffett was born in Blue River, Kentucky in 1983 and grew up in the coalfields of the Appalachian Mountains. Being secluded grew to be somewhat of a blessing for Dave because at age 13 when he became obsessed with playing music he could practice for sometimes up to 12 hours every day without the distractions of big city life. He starting playing in numerous bands throughout the area and honed his craft the best way he could but he still felt like there was much more out there for him.
In high school, Dave heard about a summer guitar workshop at the Berklee College Of Music In Boston. He decided to go in part out of curiosity and also to silence the urging of a few of the alternative high schools nun teachers who thought it was a great opportunity for him. As soon as the committee at Berklee heard Dave play they offered him a 4-year scholarship to attend the college for real. Dave was flattered but wasn't sure if he wanted to lose 4 years of touring and playing experience. Then he moved to Denver, Colorado and quickly became a leading light on the local Metal scene with the band Moore selling out venues all over town including the famous Gothic Theatre where he had saw many rock and roll icons such as Motorhead perform. But still he wanted more.
Then he had a chance meeting with one of his all time heroes Thrash Metal pioneer and Megadeth frontman Dave Mustaine whose advice changed Dave's life forever. Mustaine told Dave, "Don't look a gift horse in the mouth, go to school and learn everything you can about the music business, get as many weapons in your arsenal as you can and it will make your army that much stronger". Dave took this advice to heart and was motivated to move to Boston, go to Berklee and pursue a degree in Music Business Management. Dave was schooled by tough-minded industry mavens and studied with international Shred guitar lord Joe Stump as well as many other great teachers.
Dave then went on to work at a couple of huge record labels in New York, one reading Record Contracts in the Business and Legal Affairs Department at Sanctuary Records, and in the Radio Promotions and Strategic Marketing divisions of Virgin Records/EMI. There Dave worked on such albums as Janet Jackson's "20 Y.O", Meat Loaf's "Bat Out Of Hell 3", Korn's "See You On The Other Side", 30 Seconds To Mars "A Beautiful Lie", KT Tunstall's "Eye To The Telescope" and many many more.
Dave loved marketing and a lot of the artists on the label but hated promoting bands that he felt were dumbing down today's musical landscape and decided to make the music that he would be the first in line to buy. "Shredding The Envelope" was then born in Boston, Massachusetts when Dave collaborated with visionary artist Nancy Taylor, translating their poems into the songs that would become "The Call Of The Flames".
Being a lifetime metal fan as much as an artist, Dave knew the Metal Guitar Legends he wanted to do guest solos on "The Call Of The Flames". He first enlisted esteemed Drummer Mike Mangini (Extreme, Steve Vai, Annihilator) to provide the solid foundation that the album would be built on. Then brought these guitar legends on board to do cameo appearances. George Lynch (Dokken, Lynch Mob), Michael Angelo Batio, Joe Stump (Holy Hell) and as a tribute to Dave Mustaine and Megadeth, two former Megadeth guitarists, Chris Poland and Glen Drover solo on the same song together. That song is "Devils Roadmap" which made the official voting list for the 53rd annual Grammy Awards in the Best Metal Performance category. The song with George Lynch "Caravan of Cannibals" quickly became a fan favorite and garnered tons of international radio airplay and is in the running for the Best Hard Rock Performance award.
Dave Reffett Produced "The Call Of The Flames" wrote and arranged the music along with fiancée Nancy Taylor. He performs the vocals, and with the exception of the guest solos, Dave plays all guitars including the bass parts on the record. Musical mastermind Mudrock, (Alice Cooper, Avenged Sevenfold, Godsmack) signed on to helm the mixing board for the project. While Grammy nominated engineer Jon Lammi recorded the album along with the help of the highly skilled engineers Joe Clapp, John Shipp, David Pierre, James Willets and Steve Catizone. Legendary engineer George Marino (Kiss, Metallica, AC/DC, Led Zeppelin, Jimi Hendrix) took charge of the final masters and the album was complete and was officially released on November 30th 2009 via Dave's own company Standstill And Scream Music.
Dave has recently been doing guitar clinics and festivals in Mexico and Chile, and is is working on an instructional DVD. Also, in his new DVD with Guitar World he is sporting a Dean MAB1 on the cover and playing a Dean Custom Run #11 V with Dean DMT pickups in the whole program .