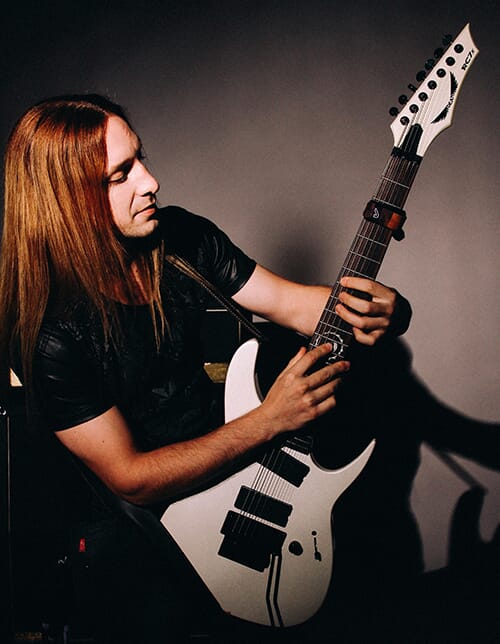 Ezequiel Fernandez was born in Buenos Aires, Argentina in the year 1987. He graduated as a composer, arranger, guitarist, pianist, bassist, singer and as a music teacher; from Tamaba, Berklee method and at the Consudec Institute practicing pedagogical methods.

As a young boy, his mother taught him how to play the guitar. At age 12 he started his first band called Medievil. The following year he recorded his first album with another band called Heavy Metal Refuge. In his late teens, Ezequiel composed two more albums with his new group MetalProgresivo Eterna Ansiedad.

In 2005, he decided it was time to improve his knowledge as a musician. He participated in musical clinics with national and international artists such as Tony Levin, Mastellotto, Phil Pallombi, Xurxo Nuñez, Dan Balmer, Daniel Guggenheim and John Stowell. At 23, he played for Symphonic Metal Domine of Empire and Angels Tears. A year later he formed the band Death Metal ShadeSouls and participated in numerous Jazz and Fusion groups. He went on a personal tour throughout Europe.

By the age of 26, Ezequiel joined ElectroRock Bloodparade as their bassist and recorded their famous album "Euforia", which led him to participate in many international bands playing in theaters and festivals like Maximus Festival.

Currently a bassist singer and guitarist in The Tripolares Progressive Band and a member of the Liquid Air Orchestra. Ezequiel is also a Director at Music School Defenders of Banfield, Professor of Music at Studio The Ship of Oseberg and Director at Apolo Studios.