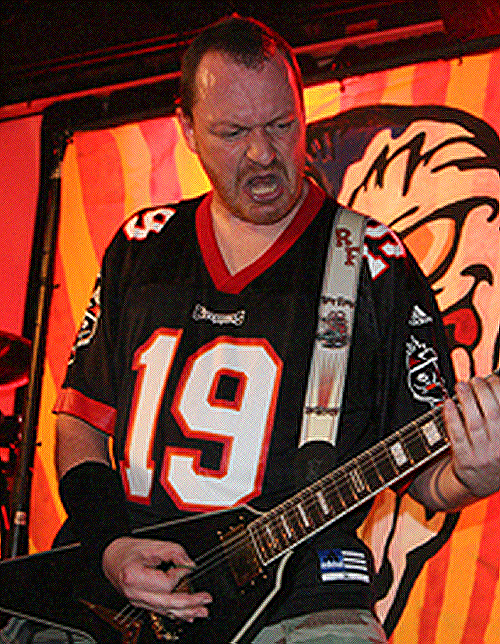 Info - RUNAMOK was founded in the summer of 2003 by guitarist/vocalist Fabian Schwarz, since the end of 2004 active as guitar player of German Heavy Metal legend STORMWITCH and the alternative rock band FALLEN 2 PIECES. Disappointed by the lack of quality Old School Metal (celebrated back in the days by such bands as METALLICA, MEGADETH or ANVIL), the direction of RUNAMOK was found very soon. But also friends of ANNIHILATOR or PANTERA should enjoy the powerful sound of the five piece Thrash band from Würzburg, Germany.
Alongside Schwarz you'll find another veteran of Heavy Metal in the line-up: co-founder and guitarist Oli Kaufmann (ex-TYRAN PACE, VINDER). The rhythm section consists of drummer Chris Weiss (ex-PARADOX) , bass player Dominik Schwarz (like his brother Fabian a former member of STORMWITCH), and lead vocalist Michael Imhof (ex-FINAL BREATH).
After their own production "Make My Day", they debuted with "Back For Revenge" on the label Metal Axe Records. Amongst their own powerful pieces you'll find the smash hit "Looks That Kill" from Mötley Crüe, that was put into a Thrash context and burned on compact disc. July 2005 "Dance of the Dead" was published, including the track "Weapons of Mass Destruction", that even made it to the compilation "Hard II Earn".
In summer 2007 RUNAMOK have signed a worldwide record deal with the legendary MAUSOLEUM label!
On their upcoming album "Freak Business", they will reach the next level of thrash with class, supported by the powerfull help of DEAN GUITARS ! WATCH OUT !!
Line-up
Michael Imhof – voc
Fabian Schwarz – g
Oliver Kaufman – g
Dominik Schwarz – b
Mario Schmitt – dr