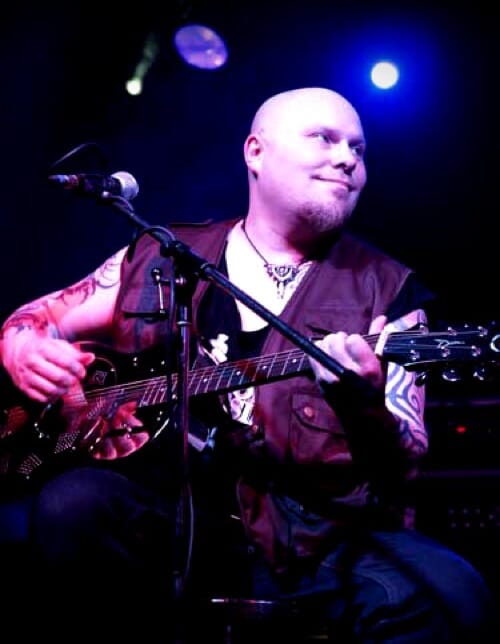 The english/german slide-guitar/keyboards-player and singer/songwriter FERDY DOERNBERG was born in 1967 as the son of the british composer and violin-player MARTIN DOERNBERG and the german teacher and writer Dr.GESINE DOERNBERG. As he
was 3 years old, his parents moved to Barsinghausen / Germany but he spend some time in England , too. As he was 6 years old he started with piano lessons. At the age of 12 he also started playing guitar and trumpet. After playing in several school and local bands he became the lead guitar player of the locally sucessful punk band "THE WABBLES" with whom he played his first over-regional gigs and did his first recordings for a vinyl-single. Also he played trumpet and piano in a local jazz-ensemble for years. His first professionally orientated band , ROUGH SILK, was founded in 1989. Through the years Ferdy found an own style of playing. As a keyboard-player his favourite instrument is the Hammond organ, the piano and vintage keyboards like the Wurlitzer-piano, accordion and the monophonic moog-synthesizer. As a guitar-player Doernberg fell in love with the slide-guitar and all her relatives like lap and pedal steel, Dobro and the hawaiian guitar. Until the present day ROUGH SILK have recorded 8 albums ( the last one, "end of infinity" , was released in Autumn 2003 !), and toured a lot ( as headliner and supporting for example HELLOWEEN, DEEP PURPLE, SAVATAGE, SAXON, ACCEPT, WHITESNAKE and DIO ) all over Europe. Since 2002 Doernberg is also the lead-vocalist of the band. Doernberg also works a lot as a studio musician ( keyboards and slide-guitars ) and has played on more than 100 albums by ROLAND GRAPOW ( HELLOWEEN ), DESTRUCTION, FREEDOM CALL, METALIUM, TOM ANGELRIPPER ( SODOM ), HOWARD CARPENDALE, CRIMSON GLORY, JOHN WESLEY HARDING, CHRIS CAFFREY ( SAVATAGE ), POWERGOD, SWEET, JANE, SEVEN WITCHES, SARGANT FURY, MASTERPLAN, THE TRACEELORDS and many others... Besides ROUGH SILK he´s also a member of the AXEL RUDI PELL-band ( he did 9 albums, 1 DVD and several tours with him so far.) and the band of the legendary ex/SCORPIONS-guitarplayer ULI JON ROTH. Ferdy has shared a stage with many different musicians like JOHN WESLEY HARDING, JEFF KOLLMAN ( U.F.O., GLENN HUGHES ) GAMMA RAY, FREEDOM CALL, JON OLIVA ( SAVATAGE ), AL PITRELLI ( ALICE COOPER, MEGADETH, SAVATAGE ), EMMA BUNTON ( SPICE GIRLS ), OLIVIA NEWTON-JOHN ( TV-show "Wetten Dass..." ), the legendary drummer MAX WEINBERG of BRUCE SPRINGSTEEN´s "E-street-band" ( Frankfurt-music-fair), AXXIS, ANA POPOVIC and many others . He has toured in Europe, South-America and the USA so far.
Doernberg had the honor to be asked by the legendary german thrash-metal-band DESTRUCTION to add a slide guitar-solo to their all-star-song "the alliance of hellhoundz". Other artists appearing on this song are among others : BIFF BYFFORD ( SAXON ), DORO PESCH, PAUL DI ANNO ( ex- IRON MAIDEN ) and MESSIAH MARGOLIN ( CANDLEMASS ). He also appears in the videoclip to this song. Doernberg also played slide-guitar and keyboards on the new POWERGOD-album. On one song he performed the ANVIL-classic "motormouth" together with ANVIL-leadsinger and guitarplayer LIPS. Because Doernberg used to be a huge ANVIL-fan, this also was a big honor for him.
Doernberg just came back from the ULI JON ROTH-USA-tour. In Los Angeles , CA , he had the honor to play during the " Sky Academy "- concert series with many great musicians like for example WARREN DE MARTINI ( RATT ), ROBBIE KRIEGER ( THE DOORS ), ROY Z., TONY FRANKLIN ( WHITESNAKE, BLUE MURDER ), DAVID PAICH ( TOTO ), JEFF SCOTT SOTO, DON DOKKEN, CHRIS POLAND and many more.
FERDY DOERNBERG also runs an own recording-studio, the "Droehnwerk", at Bad Nenndorf, nearby Hanover / Germany , where he lives. Since 1998 he has produced and engineered albums ( or tracks ) by ROUGH SILK, JOHN WESLEY HARDING, DESTRUCTION, MIKE TERRANA, TARAXACUM, BRAINSTORM, IT'S M.E., HEAVENLY, A.O.D., FREEDOM CALL, MASTERPLAN and many more in his studio.
FERDY DOERNBERG has released two solo-albums as a singer/songwriter. The first one, "Just a piano and a handful of dreams", was released in 1995 on SPV-Records. The second one, "Storyteller´s Rain" was released in 2000 on Massacre-records / Sony. Here´s the official promo-bio from the record-company :
"...STORYTELLER'S RAIN is the title of a rock-musical written by Ferdy Doernberg, the keyboarder, slide-guitar-player and songwriter of the german art-rock-band ROUGH SILK, who is also known as a sideman and studio musician for acts like AXEL RUDI PELL, TOM ANGELRIPPER, the solo projects of HELLOWEEN-members Roland Grapow, Uli Kusch, Michael Weikath and Markus Grosskopf and METALIUM. The latest job he did was helping out on the new SEVEN WITCHES album. The lyrical concept presents 12 ghoststories with philosophical and ironical undertones - told by the main character called "the Storyteller". The music follows the "ups and downs" of the stories through progressive rock, classic, jazz, heavy metal, folk, country and bombast rock elements. A lot of unusual acoustic instruments like dobro, violin, sitar, didgeridoo, trumpet, trombone or zither can be heard on the album, too. Even though it's Doernberg's soloproject, STORYTELLER'S RAIN is also the name of the performing band consisting of Ferdy Doernberg, Ralf Schwertner (bass / Rough Silk) and Mike Terrana ( drums / Yngwie Malmsteen, Tony MacAlpine, Steve Lukather, Rage, Axel Rudi Pell ) . Also many guest musicians like Axel Rudi Pell, Roland Grapow and Michael Weikath ( HELLOWEEN ), Tom Angelripper ( SODOM ), Thomas Ludolphy, Nils Wunderlich and Curt Doernberg ( ROUGH SILK ), Martin Huch ( HEINZ RUDOLF KUNZE ) and Tobias Exxel ( EDGUY ) appear on the album. On the 10-minute-track "To Forget What We Know" HELLOWEEN-drummer (!!) Uli Kusch gives his debut as a lead vocalist. The album was produced by Ferdy Doernberg in his own Droehnwerk Studio and the Silvertone Studio in Hannover , Germany "...
To promote "Storyteller´s Rain" Doernberg played many shows as a solo-artist. Besides solo-performances - the largest was on the Wacken-open-air 2000, where Doernberg performed solo just with a Dobro, a lap steel and a piano, between all the louder Heavy-metal acts - he also did a tour through Germany supporting JOHN WESLEY HARDING in 2002. After his solo performance he and Joerg OHLSEN were also Harding´s backing-band ( aka "the Barkins" ). Also, he recently opened up just with his acoustic slide-guitar for the legendary THIN LIZZY, JEFF KOLLMAN, countrysinger RICK MONROE ( USA ) and the german pop-metal band AXXIS. With his dark english humor and his intelligent songwriting Doernberg seems to be able to work with bigger rock-crowds as well as with seated audiences in small folk clubs. In May 2006 Ferdy´s new soloalbum "`till I run out of road" has been released on Midas Twins Records ( distributed by Just for Kicks-music ). It´s a singer/songwriter-album with guest-appeareances by JOHN WESLEY HARDING, JEFF KOLLMAN, MIKE TERRANA, ANDRE HORT, GABI PALM and FERDY's brother CURT ( TREIBHAUS ). If you're interested, please check out Ferdy's official website www.ferdydoernberg.de or just leave a message!