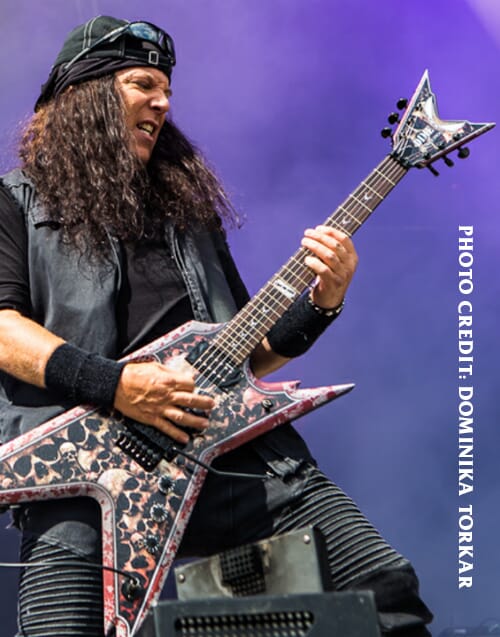 SPV/Steamhammer Recording Artist Geoff Thorpe of Vicious Rumors is one of the original pioneers of the Powermetal genre in the USA. From the early 1980's on Shrapnel Records to SPV/Steamhammer Records in 2017, Vicious Rumors is celebrating over 38 years of touring and recording and have amassed an impressive catalog that spans 12 studio albums, and 4 live albums.
"Soldiers of the Night" and "Digital Dictator" became metal classics in the press and with fan's around the world. With "Soldiers of the Night" also helping to launch the career of another Dean artist, guitarist "Vinnie Moore" of UFO. With 3 albums on Atlantic Records, "Vicious Rumors" "Welcome to the Ball" and "Plug in and Hang On, Live in Tokyo" the band cemented their reputation for high quality and high energy shows around the world. Countless tours later in 2016 VR hit the road again in support of the latest album "Concussion Protocol" playing to packed houses and making the top 100 album charts in Germany. In 2017 VR will perform at the world renowned "Bang Your Head Festival" followed by a full European tour in November. On top of headlining several tours, Geoff and Vicious Rumors have performed extensively all over the world as an opening act for many high profile artists. Some of which include: Metallica, Aerosmith, Black Sabbath, Judas Priest, Scorpions, Dio, Slayer, Testament, MSG, UFO, Savatage, Accept, Hammerfall and many others.
With a new Studio album coming in 2018 on SPV/ Steamhammer, Vicious Rumors continues to add to their already prolific and impressive catalog. For over 10 years, Geoff proudly plays the Dean Razorback, Razorback V, ML, and Cadillac guitars. Of Dean guitars, Geoff says, "I love these axe's so much I even named one of the studio albums 'Razorback Killers!"Look for Geoff Thorpe and Vicious Rumors on tour!