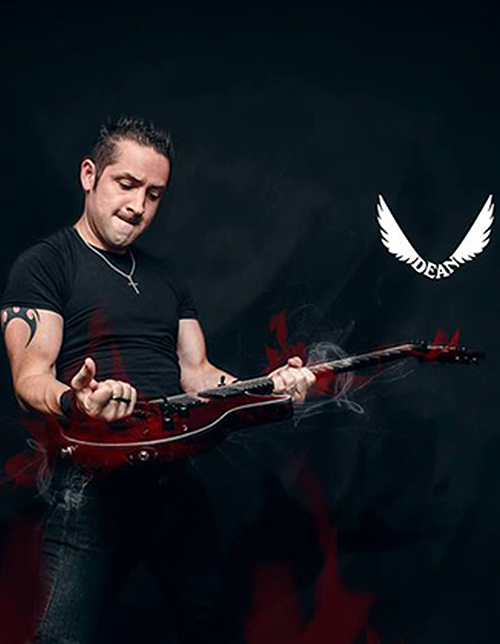 Jesús Parra was born on the 1st of April 1978, Lima - Peru, in the district of Miraflores, his interest for playing guitar started because of the Heavy Metal genre, being influenced by bands like Iron Maiden, Metallica, Ozzy Osbourne, Guns and Roses, Yngwie Malmsteen, which he listened to with his older brother since he was young.Because he couldn´t follow a musical career due to economic issues, he decided to study different techniques there are for the electric guitar through methods of several guitar players and extension courses in the National Music Conservatory with Eduardo Suarez and in the Vivace School with Victor Hugo Ñopo;those studies lasted about 6 months.Then in the Mastermusic School, with the teacher Kike Yompián around the year 1998,year in which he decided to become a musician, studied 2 consecutive years with a scholarship and half a scholarship, the extension course for electric guitar. Before those studies, he is called to become part of the Teaching Staff of that School in the year 2001 - 2008.
In this learning process he strengthened his will of following the art of the electric guitar and ended up visualizing the music in a more serious way,thanks to the studies he could get. It was in this school where he met several musicians, with whom he played in different events and tribute bands such as, Iron Maiden, Metallica, Bon Jovi, Dio, Avantasia, among others.
In the month of January of the year 2001, already working in Mastermusic, a friend contacted him to form a band called "Luna hiena", with whom he played 80´s and 90´s covers in several bars of Lima, as well as in the provinces. Since the year 2001 a very hectic life starts because he starts playing more than 4 times a week;because of being a musician in this band and having other projects, he is called by the Icarus band (2003 – 2011)and Contracorriente (2003 until the present date)with these bands and eventual projects, he was more involved in the music world. Nonetheless, he left the band Luna Hiena on 2006 to become part of a new Project called T.O.P BAND (2006-2009)that lasted a few years due to personal issues and to set course for new projects linked to teaching techniques for the electric guitar.
After several years of hard work and after being a support band for the bands, 2 Minutos, The Exploited, D.R.I.,Dark Moore, Seven Angels, Paul Di´anno, Sepultura, Iron Maiden; being the guitar player of the well-known vocalist Tim Ripper Owens in his tour around Peru, technical assistant for the"Iron Maidens"and in 3 opportunities for Michael Angelo Battio (2004-2006-2011)it´s decided to program during the year 2013, an instrumental project as a solo artist,which is linked to the new brand of guitars he will use, Dean Guitars.
Nowadays, being a guitar player for the band Contracorriente, he develops in the environment being a teacher of techniques for the electric guitar.