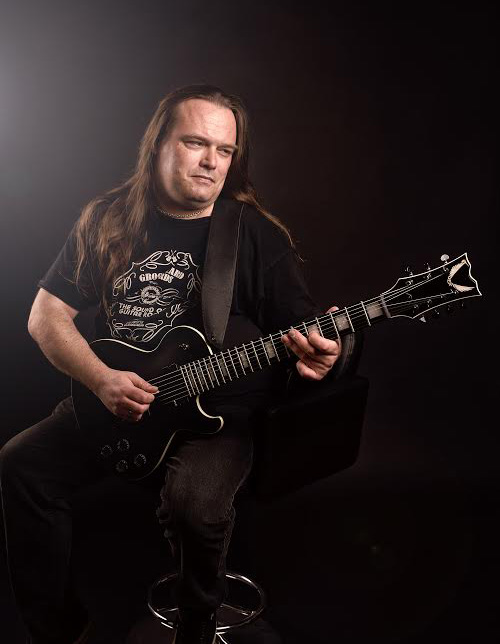 Martin J. Andersen (Born 1974, in Aarhus, Denmark) is the guitarist and singer for the Danish power trio, Blindstone.
Blindstone has released five albums on American label Grooveyard Records, with a sixth (the band's first Live album) slated for release in December. Stylistically, the band is influenced by artists like Jimi Hendrix, Frank Marino & Mahogany Rush, Robin Trower, Black Sabbath, Funkadelic and Audioslave.Additionally, Martin is currently putting the finishing touches to his solo debut, also to be released by Grooveyard Records.
Martin is known as an explosive, yet emotionally charged and expressive guitarist, with great technical command over his instrument, and as an outrageous performer and showman. He has worked with the likes of George Clinton, Billy Preston, Bobby Womack, Snoop Dogg, Kurupt, Europe guitarist John Norum, Ty Tabor of King's X, and many others, and has appeared on more than 30 official releases.
Although primarily known as a rock guitarist, Martin also held the spot as the guitar player in the award nominated remix-project Funk Royal, showing his impressive funk rhythm-chops on several chart-topping remixes. He is also a session player, and has appeared on anything from Children's records, to Electronica, to just about the heaviest Metal imaginable.
Among the accolades he has received from the media, Martin has been called "One of the best european blues-rock guitar players", as well as "the unsung guitar hero of the modern age", and his work with Blindstone is all the proof you need, to see that in Martin's case, such lofty praise is truly justified.
Apart from playing in Blindstone, Martin also serves as the lead guitarist in Meridian, and as co-lead guitarist in Kuko De Kobra.
www.blindstone.org
www.facebook.com/Blindstone.official
www.meridianband.dk
www.facebook.com/meridian.metal
www.kukodekobra.dk
www.facebook.com/kukodekobra