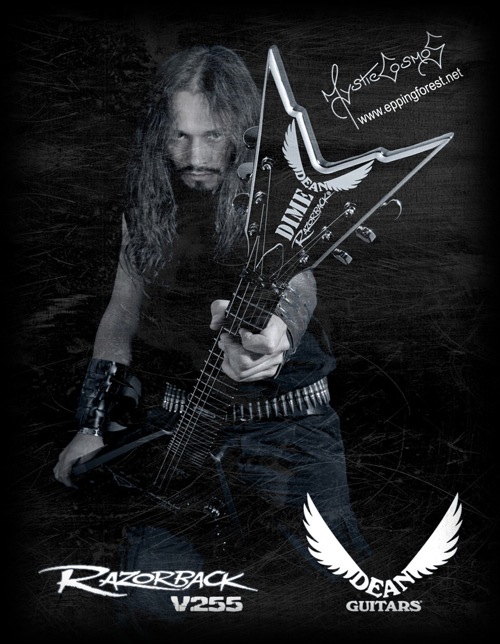 Epping Forest play a kind of Blackened Death Metal with reminiscences of the Scandinavian essence, and their actual 'style' is increasingly difficult to characterise: the horde drinks from a myriad of different fountains, starting with metal and more obscure music, but not excluding other genres altogether.
Nevertheless, it could and should be said that Epping Forest plays fast and brutal, using and creating lots of atmospheric, mystic and extreme elements.
LINE UP:
Azrael - Vocals/Bass
Morbius[PT]
PsychotekTrauma[PT]
MysticCosmoS - Guitars
Ex-Dark Mass[PT]
Ex-Corpus Christii[PT] session live member Noctis Lunariis -
Keyboards/Synthesizers
Ex-Dark Mass[PT]
Menthor - Drums/Percussion
Morbius[PT]
Corpus Christii[PT] session studio/live member
Ex-Ordo Draconis[NL] session live member

ALBUM COMMENTS
Everblasting Struggle is the debut album of one of the earliest Portuguese Blackened Death Metal bands in existence. Epping Forest brings reminiscences of the Scandinavian essence that provides the listener with an intense trip throughout the ten tracks and all their darkest Norse, Egyptian and classical Greek mythology.
Having one of the fastest Portuguese drummers on their ranks, you are bound to be blasted off your seat by one of the fastest albums of the Lusitanian scene performed by (In)humans!
CURRENT LABELS
UNEXPLODED RECORDS (Sweden)
RECITAL RECORDS (Portugal)
CHRONOLOGY/BIOGRAPHY
2008 • Epping Forest releases worldwide the debut album "Everblasting Struggle" through the Swedish label Unexploded Records. At the beginning of the year, Trevash officially takes over the bass position. On the falling of 2008, MysticCosmoS signs a endorsement deal with the giant DEAN GUITARS USA.
2005 • First tour takes place with three live dates throughout Portugal with Ordo Draconis from Netherlands.
2004 • Another contest, this time Rock Music Metal Challenge. Epping Forest are selected to the grand finale featuring six bands out of the more than 100 that had sent their material for assessment to Rock Music (shop). Epping Forest contributed with the live bootleg "LIVE Promo CD-R 12th April 2003".
2003 • Participation on the contest Metal Force. Epping Forest comes out 2nd out of 40 bands (5th on the first phase, 1st on the second phase, and 2nd on the grand finale).
2002 • First live appearance takes place in April. At the year's end, Azrael officially takes over the vocal duties.
2001 • Drum position is taken by Menthor.
1998 • The project Epping Forest is officially released from the flames of two wandering souls: MysticCosmoS and Noctis Lunariis.
1997 • First rehearsal on June, Friday 13th.
GIGOGRAPHY:
Epping Forest have already played with Samael (Sw), Ordo Draconis (NL), Decapitated (Pol), Primordial (Irl), Cancer (UK), Sacred Sin (Pt), amongst others. The band has also gone on a Lusitanian Tour with Ordo Draconis (NL) and was classified for the final stage of two of the biggest Metal contests to occur in the last few years in Portugal. The future holds planning a tour through central Europe for the album promotion. The main targets will be Epping Forest's home land of Portugal, Spain, France, Belgium, The Netherlands and Germany.
For more info about any future events please visit:
www.eppingforest.net
CONTACTS
Management and Booking • MysticCosmoS
Phone : 00351 964574449 [PORTUGAL]
E-mail : info@eppingforest.net
Epping Forest Contact • MysticCosmoS
Phone : 00351 964574449 [PORTUGAL]
E-mail : mysticcosmos@eppingforest.net MSN : mysticcosmos@hotmail.com
Website : www.eppingforest.net MySpace : www.myspace.com/eppingforest