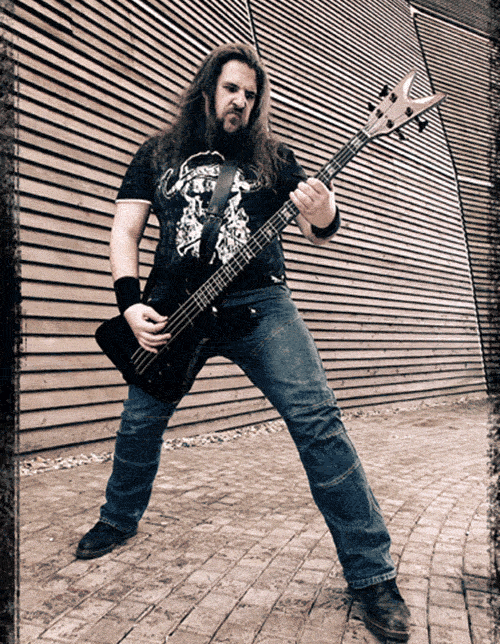 Timeline:
* 10-17 1980: Holy Moses is founded by Ramon Brüssler (b.), Jochen Fünders (g., v.) and Peter Vonderstein (dr.) in Aachen. Four days later the town of Stolberg is shaken by a metal quake - the first gig of the band´s history. Only a few months later the band is kicked out of the rehearsal room in the basement of a church, after fanclub sickies did turn every single available cross upside down.
* 10-17 1981: Holy Moses are invited to celebrate their first birthday as opening act of Venom at the very premier night of Eindhoven´s soon-to-become immortal Dynamo club. Dynamo boss André Verhuizen delivers the quote of the year by stating: "Compared to Holy Moses, Venom is no more than some harmless dance band." After the away match in Holland Vonderstein is replaced by Paul Linzenich. Late in 1981 Brüssler is looking for a successor of Fünders, too. He finds Andy Classen, formerly guitarist of Disaster, and a singer called Iggy. But Iggy is kicked out before New Year´s Eve, because he prefers to rehearse in hippie clothes instead of posing with iron guerrilla fashion. Andy´s girlfriend Sabina is forced to grab the microphone. She doesn´t want to get the job, so she´s roaring and bellowing the worst she can. These unusual sounds hit exactly Ramons taste: "You are our man!" The "man" gets a sore throat soon, since the band is rehearsing every single day. Ramon cuts off all her complaints: "Don´t behave like a girl."
* 1982: Sabina and Holy Moses play their first gig at the end of November.
* 1983: Andy and Sabina get married.
* 1984: Paul Linzenich leaves the band to finish his university exams. He´s followed by Sabinas brother and later by a guy called Snake: Jörg Heins needs to be fuelled by a crate of beer every time they rehearse. Sabina leaves the band, but returns after a few weeks. Ramon doesn´t want to work with the girl singer substitute, who tends to dress a bit like Iggy.
* 1986: Holy Moses catch their first record deal. "Queen Of Siam" is recorded with another new drummer (Herbert Dreger) and produced by Mekong Delta bassist Ralph Hubert, who owns the label. Ralph smiles, looking at the monthly Metal Hammer charts, showing Holy Moses at the bottom. He knows: The last position sells almost as many records as the top one. A few weeks later Herbert has to pack his things: He decides to attend a show of Whitesnake instead of playing with the band in Holland the same night as guests of Agent Steel. Herbert is followed by 19 year old drumming talent Uli Kusch. September 1986 sees the most crucial line-up change: Ramon leaves the band to live with his girlfriend in Thailand. Now Sabina manages the band.
* 1987: The second record "Finished With The Dogs" means a breakthrough for Holy Moses. The critics go berserk, the band gets interview requests from all over the world. Touring starts with Rage, Angel Dust, Steeler and Paganini. Johan Susant (b.) replaces Ramon on tour with D.R.I. and Holy Terror. In December the band plays a showcase in Hamburg and gets a deal with major company WEA, a.k.a. Warner Records. Now Holy Moses work under the same roof with AC/DC, Van Halen and Metal Church.
* 1988: Holy Moses becomes a full time challenge. Sabina leaves her job as paramedic and her university studies in computer science. Besides her obligations with the band she is hosting Germany´s leading TV heavy metal show "Mosh" side by side with metal journalist Götz Kühnemund. Andy and Uli prepare the songs for the new album "The New Machine of Liechtenstein". They record at the famous Horus Sound Studio in Hannover and do the final mixes with Alex Perialis in Ithaca/ New York. The concept album contains an elaborate comic strip, done by Rainer Laws. Soon after the release of the album Rainer joins the band as second guitarist.
<br> *1989: " Liechtenstein" is a big success. The band is touring with Sacred Reich and Forbidden. Highlight of the open air season is a gig at the Dynamo Open Air in Eindhoven. On top of all that the band is invited to starr in the sequel of a famous German crime TV series. But close to the end of the year the cooperation with WEA is cutted off: New A&R man Heinz-Gerd Lütticke, formerly making tons of money with the Scorpions, wants to break the single charts with pop songwriters joining Holy Moses. On top of that he asks Sabina to change her style of singing. Holy Moses decide to say good-bye to WEA.
* 1990: After the downfall of the Berlin Wall Holy Moses team up with East German band Blitzz, touring the GDR. On the road Rainer Laws gets seriously ill, so the band plays on as a fourpiece. After his recovery he decides to stay home and concentrate on his comic strip drawings. New Moses manager Uli Wiehagen digs out his own record label West Virginia Records and makes a deal with Holy Moses. "World Chaos" is produced by Harris Johns and Will Reid Dick. Soon after finishing the record, Uli quits the band. He´s got an offer by Hamburg´s rising metal outfit Gamma Ray. Atomic Steif, formerly with German speed metal band Living Death, gets aboard to play the tour with Holy Moses.
*1992: Holy Moses finally disband after the release of "Reborn Dogs". Sabina gets a new band together with Schrödey, guitarist of Hamburg´s Warpath. They call their new band Temple Of The Absurd.
* 1993: Although Temple Of The Absurd only produced a demo tape yet, they are invited to play the Dynamo Open Air. A few weeks later they release their first album "Absurd" without a record deal. They sell 3.000 copies to dedicated fans within the first month alone.
* 1994: Andy Classen, who became a renowned producer with his studio Stage One in the meantime, uses the name Holy Moses for releasing a new record called "No Matter What´s The Cause". The heaviest record of Holy Moses´s history features bassist Dan Lilker of S.O.D. and Nuclear Assault fame and drummer Meff of Kassel´s hardcore outfit Ryker´s. Sabina contributes some guest vocals. Privately they make a deep cut: Sabina and Andy get divorced.
* 1995/96: Sabina gets together with WEA again to re-release the first Temple Of The Absurd album. The band is touring constantly and is invited twice to play the rising Wacken Open Air, performing on main stage in 1996.
* 1997/98: Sabina starts with her own video internet platform "Bullet TV", acting again as host of the show.
* 1999: The experimental second Temple record "Mother, Creator, God" is critically acclaimed. The band is among the very first acts to add a bonus DVD with videos and various extra features. Temple Of The Absurd play Hard Union festivals like Bang You Head and With Full Force. Although their Label High Gain collapses, the band heads into a European tour with Pro-Pain, Die Allergie and Run Devil Run. Shortly before their scheduled performance at the Wacken Open Air, which was supposed to become the "Hard Union Grand Slam" by playing all three major German metal festivals, Sabina gets seriously ill
and needs to undergo surgery. Her last quote before she faints: "I must go to Wacken!" The surgeon´s reply after she has been waking up: "What the fuck is Wacken?" Anyway: The gig must be cancelled.
* 2000: Sabina is organizing a tour with newcomers Dark Age and Niederschlag. Only a few weeks before the festival season kicks in she is severely injured in a motorbike accident and luckily survives the crash. After recovering from the accident she becomes ill again and needs another surgical treatment. After all this bad luck has happened, Temple Of the Absurd disband. Andy and Sabina work together again: Holy Moses is back.
* 2001: The band is performing at a major festival in South Korea and various European open airs. There´s a new EP released by Century Media Records, gaining positive responses both by fans and critics.
* 2002: The first full length CD is released in June: "Disorder Of The Order". Holy Moses, Desaster and Embrace are touring Europe. Michael Hankel, formerly with Erosion, replaces Andy as live guitarist. It becomes obvious after a while, that he seems to be a real soulmate of Andy. So he starts writing songs for Holy Moses.
* 2004: Live tracks of Holy Moses are part of the DVD "Armageddon Over Wacken". Many fans are sending mails, demanding another Holy Moses album.
*2005: "Strength, Passion, Will, Power" is the first Holy Moses album without any input by Andy Classen. The songs are written and arranged by Michael and Sabina, produced by former Temple guitarist Schrödey. The record is released by Armageddon Records, 23rd of May 2005.
*2005-2006: Holy Moses re-releases all their albums including bonus tracks, some old demos and for the first time the "Queen of Siam" album on CD.
BE A PART OF HOLY MOSES BLOODBOUND - WHERE HOLY MOSES AND THE FANS GET TOGETHER. HERE YOU CAN FIND ALL OUR FAN SITES AND ALSO OUR OFFICIAL FORUM IF YOU SUSCRIBE TO OUR FORUM YOU CAN DISCUSS ABOUT HOLY MOSES AND METAL IN GENERAL AND GET IN TOUCH WITH FANS FROM ALL OVER THE WORLD AND THE BAND ITSELF !!!!!!!!!