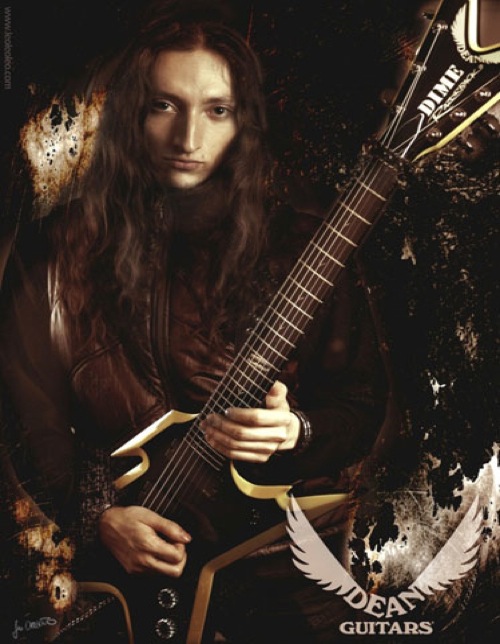 Born in Bogotá, Colombia, started playing guitar at school at the age of 12, playing Colombian and latin american folk music. His first influences goes from Metallica, Gunners, Sepultura, Pantera, Megadeth, Testament, Slayer to Soda Estereo and The shadows, these last very significant in his musical formation.
He studied some classical and Spanish guitar in Albacete, Spain in 1999; at the University he discovered a lot of new guitarists like Chris Impellitteri, Joe Satriani, Vinnie Moore, Eric Johnson, Steve Howe, Yngwie Malmsteen, Frank Gambale, Allan Holsworth, Brett Garsed, Michael Angelo, Rusty Cooley, mentioning some.
A versatile musician and very active in his musical environment creating jingles, arrangements for songwriters, TV and Theatrical works, compositions, teaching at college, working with many bands, making transcriptions, some of these are at www.vgmusic.com, and as a session guitarist.
He received his degree as a master of musical arts, Specializing itself in composition and arrangement at the Universidad Distrital Francisco José de Caldas in Bogotá, and has a specialization in university teaching at the Universidad el Bosque.
Recently, He got an endorsement at DEAN GUITARS like the first Colombian artist who signed with this prestigious brand.
His most important projects are his solo project "PATRICIO STIGLICH PROJECT" actually releasing disc of the same name, and his progressive rock band "PARALLAX"
More info:
PATRICIO STIGLICH PROJECT: http://www.Myspace.com/patriciostiglich
"All songs composed by Patricio Stiglich"
Facebook: http://www.facebook.com/pages/Patricio-Stiglich-Project/125882694116567
PARALLAX: http://www.webparallax.tk
http://www.myspace.com/webparallax
Thesis about training process for electric guitar by Patricio Stiglich (in Spanish):
http://www.wikilearning.com/usuario/patricio_stiglich/10422835
Other achievements:
- First place on a guitar contest: 7 String, "la séptima cuerda"
- Third place on a composition contest with Brainwave at the university (UDFJC).
- First place at the festival of rock bands "ROCK HYNTIBA X" http://photos1.blogger.com/blogger/6617/128/1600/rock-hyntiba-x-web.jpg
- Two times selected with CALUMA JAZZ to participate in most significant jazz festival in Colombia "JAZZ AL PARQUE" in 2006 and 2008.