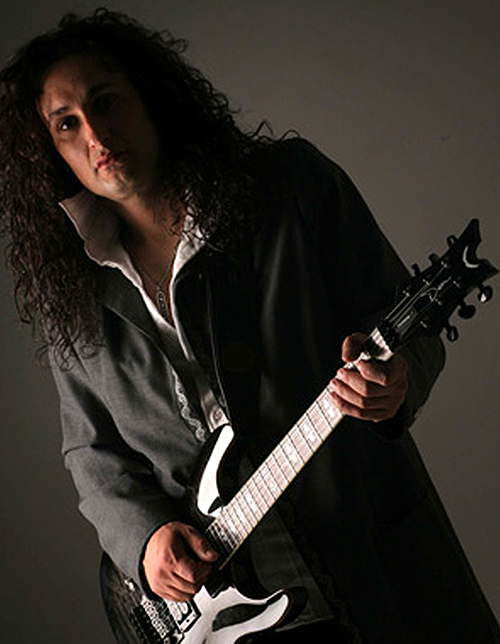 Roger is known for his unique style and his aggressive rhythm playing as well as for his considerable soloing skills. Having been featured several times in Young Guitar and the Guitar Magazine in Japan, as well as in numerous other publications around the Globe.
Some of the Musicians Roger has worked with over the last years: John West, Mike Terrana, Vitalij Kuprij, Shane Gaalas, Kevin Chown, John Onder, Goran Edman, Mistheria, Steve di Giorgio, Carsten Schulz, Ferdy Doernberg and David Shankle amongst others.
Roger started playing the Guitar at the age of 15, right after hearing the first time to Yngwie Malmsteens Trilogy Record. He then started playing the local scene. He started taking lessons at Jazz School and attended the MI in Los Angeles. That's where he got contacted and was offered a Recording Contract by Mike Varney, president of Shrapnel Records after hearing a instrumental Demo which Roger sent him and which he has recorded together with his buddy and keyboard prodigy Vitalij Kuprij. The Band then was called Atlantis Rising, which was later to become Artension. The Artension Line Up then consisted of Roger, Vitalij Kuprij, John West (Badlands, Royal Hunt) Mike Terrana (Malmsteen, Rage) and Bassist Kevin Chown.
The Debut Album 'Into the Eye of the Storm' was well received and had a major impact when released via Shrapnel /Roadrunner Records in 1996, Artension was gaining a solid following throughout the World.
Roger has recorded 7 Albums with Artension so far, more to come. Yet there was time to move on and Rogers new Band Project'Angel of Eden' are finishing up the works on their Debut Album 'End of Never'. The Record will be released on the Marquee/Avalon Label (Japan) July 2007, other territories to be announced soon.
The Album covers all the metal lunatic is asking for, from melodic harmonies, to neo-classical shredding up to pure, grinding heavy metal. A very promising new band, to watch out for.