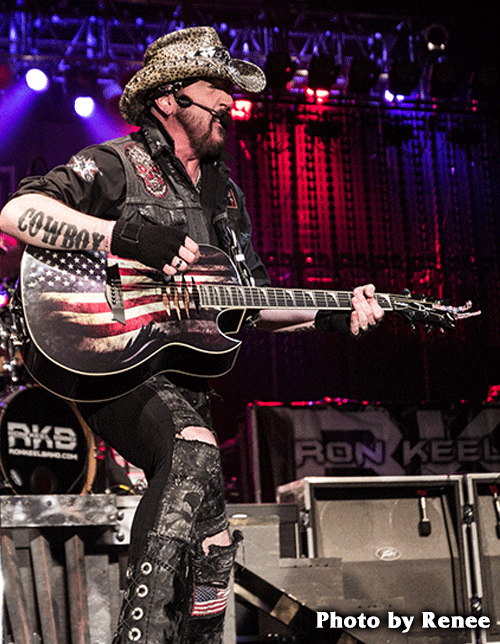 2018 marks Ron Keel's 35th anniversary as a major recording artist. From that first Steeler album to the brand new Ron Keel Band release by the EMP Label Group, his career in entertainment has taken him from the concrete jungles of arena rock to the dirt roads of country music. While selling millions of albums and touring the world as both a heavy metal screamer (KEEL, Steeler, and a brief encounter with Black Sabbath) and a country music artist, Ron's solo album "Metal Cowboy" combines both genres, establishing a style and a persona which captures the heart and personality of this self-proclaimed rock n' roll outlaw.
Keel, now signed to David Ellefson's EMP Label Group, has several album releases in 2018: METAL COWBOY: RELOADED - the Ron Keel Band album FIGHT LIKE A BAND - and reissues of the classic Keel albums THE FINAL FRONTIER and KEEL (from Rock Candy Records).
Keel's legendary major label debut album "The Right To Rock" was produced by KISS' Gene Simmons - they went on to notch three albums on Billboard's Hot 100 as well as MTV and radio hits "The Right To Rock," "Because The Night," "Tears Of Fire," "Somebody's Waiting," and "Rock N Roll Outlaw." Opening shows for Bon Jovi, Van Halen, Aerosmith, Motley Crue, Dio and many more established a hard work ethic that remains strong today; in recent years Keel has become a staple on the Monsters Of Rock Cruise events, played the M3 Festival twice, and headline 2018 performances and events include the Monsters of Rock Cruise, the Atlanta KISS Expo, arenas, festivals and casino showrooms plus major bike events like the Hot Harley Nights.
After nearly three years hosting the "Streets of Rock & Roll" rock-and-talk syndicated radio show, making the transition to a daily rock jock was the next step in Keel's career. After crushing the ratings with the #1 show on the #1 FM rock station in Sioux Falls for two years, Ron and his partners created KBACK where he is now hosting "Mid-Day Mayhem with the Metal Cowboy" on http://kback.rocks.
As a songwriter, Ron has dozens of TV and film credits - major movies like "Men In Black II," "Dolphin Tale," "The Messengers" and many more - and his songs have been featured in hit TV shows like "X-Files," "Desperate Housewives," "The Simpsons," "King Of The Hill," and the Daytona 500 broadcast.
Ron Keel's official autobiography "Even Keel: Life On The Streets Of Rock & Roll" was published in 2014. National Rock Review says this about it:
"Ultimately, this book is more a story of drive and persistence than 'just' a Sunset Strip rock book. It's a lesson in survival. Of being humble and doing everything it takes to achieve what you love to do. You'll buy the book for its nostalgia. You'll finish it feeling you can do anything you set your mind to."