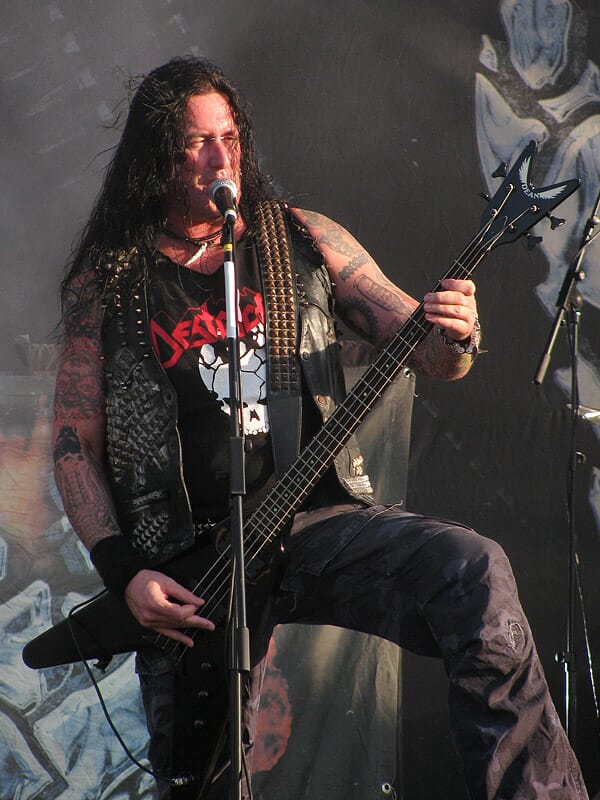 Born on the 22th December 1966
Height: 192cm Weight: 88kg
How long have you been playing your instrument?
Since 1982/83
Equipment:
Trace Elliot Bass Amp 450W, Sans Amp, Boss Noisegate, Speakers : Ampeg 8x10 Classic, Dean V Basses Exclusively
Listening Metal since:
The end of the seventies.
Best concert(s) of your career?
There were many great shows, the most outstanding was maybe Lissabon/Portugal 1988/89 with Motörhead, Cali/Colombia 2001 and the Wacken Comeback 1999 in Germany
Favorite band:
Ow, tough question because i listen to a wide variety of music. Judas Priest, Motörhead, Dead Kennedies, Exodus, System of a down, Kreator, old Maiden and many more, too much to list here.
Musical influence:
Lemmy and Steve Harris
Is there any kind of music you don't like at all?
"Kindergarden"-metal (nowadays also offered under the label 'Powermetal') and Rap
Favorite movie:
Matrix
Favorite food:
Chickenbreast in sourcream with potato-gratin
Favorite drinks:
Red wine, caipirinha & beer
Favorite country:
Spain
Prefered female:
Extremely good looking and willing!
What do you hate the most?
Liars and intolerant people.
Your tip to other / young bands::
Just do what you like and not what others tell you and keep up, don't give a s@#t about trends!
Your worst habit:
Cheating choleric
What are you unbeatable in?:
Choleric outbursts.
Why is H.M. "Your" music?
Because Heavy Metal can never be standardized.
Biggest wish:
To grow old in a healthy way with this Rock'n Roll lifestyle.