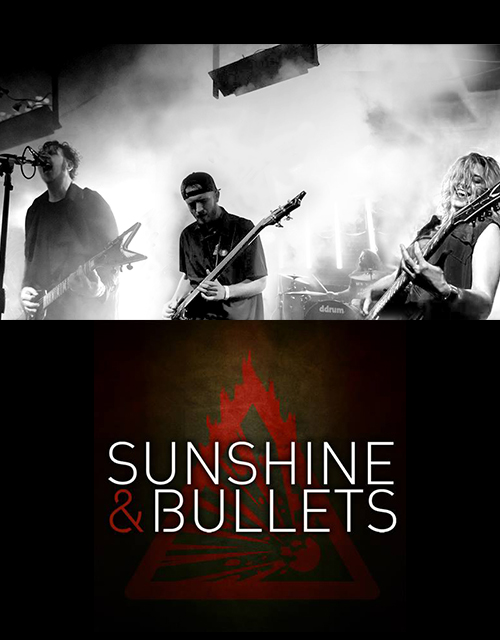 Sunshine & Bullets originally formed in 2010 in Tampa, FL as a power trio with the goal to create a large dynamic sound out of only 3 members. They developed their unusual blend of rock music and started booking shows, building a cult following in various cities across the U.S. and made friends around the world. Rich Keane Jr. earned the nickname "Ginger Loko" for his red hair and wild stage antics such as playing his guitar on the floor like a piano and throwing it up in the air and catching it in time to finish a riff. They recorded and released the album Triangulum Mechanism in 2014.
Shortly after releasing their album, they experimented with lineup changes, and decided to add a 7-string guitar to the mix, so Amanda Hamers started playing the Dean Thoroughbred Stealth 7 String, and they added Chandler Cornell on bass to become a 4 piece.
Their music ranges from dark and heavy to peaceful and ambient, with Rich Keane Jr. and Amanda Hamers both singing lead, giving them comparisons to Evanescence, Linkin Park, A Perfect Circle, and others.
Although they had a humble beginning, playing shows at small bars for a handful of dedicated fans, they have since had the honor of performing at large music festivals in front of tens of thousands of people. They are currently in the process of writing their next album, and with their 4th member, they intend on making it even heavier, darker, and bigger sounding than before.
Members:
Rich Keane Jr. (Vocals/Guitar) Dean V Stealth
Amanda Hamers (Vocals/Bass Guitar) Dean Edge Pro
Kyle Wolfram (Drums) ddrum Reflex Powerhouse