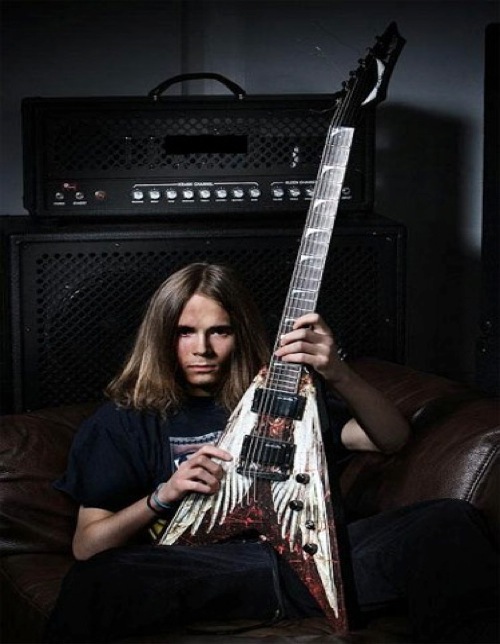 Last year Tracedawn gave the metal fans and media all over Europe a stormy warning of what the next generation of metalheads is made of. After the furious self-titled debut the boys are back in town to kick the melodic death metal scene into new era with louder, harder and faster full-length album entitled Ego Anthem.
It was back in 2005 when Tuomas Yli-Jaskari came up with an idea that would be named as Moravia and later on Tracedawn. Already having played at numerous projects, the young musician knew that the only way for him to play the music he wanted was to start a band of his own. He started out by composing one song (later called as Without Walls), and after recording an instrumental version of the song, he knew he needed a capable crew in bringing his ideas into life.
The lone musician began searching for the perfect line-up via internet at summer of 2006 and was soon surrounded by a group of extremely talented young musicians. With the new functional line-up, the band locked itself into Studio Redhouse and recorded a demo called Path of Reality. It was well received on the internet, and also caught the interests of various record labels.
After playing together regularly for quite some time, the opportunity to release an album was becoming reality. Tracedawn signed a record contract with Redhouse FMP in late 2007 and vigorously started to record their first official release. The band recorded a four song EP and went fishing for partners and soon convinced Playground Music Scandinavia and Drakkar Entertainment to collaboration.
Tracedawns' self-titled debut was released in Finland in March 2008 and Central Europe followed in August the same year. The release resulted great reviews and features in media all around Europe storming about the technical capabilities and songwriting skills of this young band. The guys soon found themselves rocking the stages of the biggest venues and summer festivals in Finland. The summer of 2008 resulted also in the first line-up change for the band when bass player Henri Vahtere was replaced with the bands long time friend Pekko Heikkilä.
After the successful year 2008 Tracedawn already had songs ready for their second album. The band hooked up with producer Janne Joutsenniemi (Stam1na, Suburban Tribe etc.) also known from Finnish metal legend Stone. Thrilled about the opportunity to work together with one of the most appreciated metalheads in Finland the band started to work their ideas into reality at Seawolf and Redhouse Studios.
With Ego Anthem Tracedawn redeems the high expectations their well received debut set upon them and takes it even further. The new album represents a self-assured band that combines strong melodies and furious riffs into a progressive, dynamic and contagious metal music.