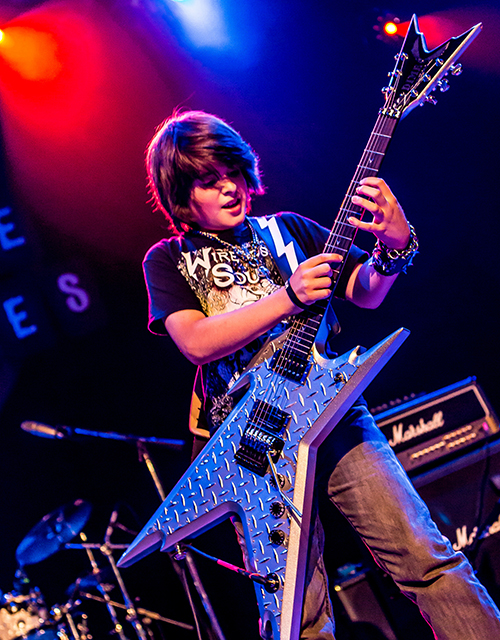 "You guys DESTROYED the House of Blues Cleveland… people left that show shaking their heads going, 'What did we just see? These kids were AWESOME!' " - Russell Reed (The Russell Reed Blog Talk Radio Show).
"Heavy rock trio Wireless Soul, led by local guitar virtuoso and vocalist Vince Minogue, has built a following the old fashioned way, by playing dozens of live shows at festivals, nightclubs (including House of Blues Chicago, Reggies, and Penny Road Pub) and meet-and-greets." - Illinois Entertainer Magazine
Young artist, Vince Minogue, is an American guitarist/vocalist and is the original founding member of award winning band, Wireless Soul. Vince has been performing live at major venues around the U.S. since starting his band in 2012, including Hard Rock Cafe, The OdeonConcert Club, and Allstate Arena. Some artists he has performed live at shows with include Mushroomhead, Dope, Hed PE, Alien Ant Farm, Puddle of Mudd, and Dean artist Michael Angelo Batio as part of the Axe Masters/Master Shredders Concert Series. His influences are Dean artist Dave Mustaine (his guitar hero) and Eddie Van Halen.
The guitar that changed his life... Vince "Got his Wings" early! He started out with a Dean and it's been Dean all the way ever since. Vince commands the stage with a stunning Dean diamond plate guitar! The Razorback is the only guitar Vince will play, on stage and off. Vince's passion for the Razorback guitar began with the Commemorative Dean Dime 10K which marked the 10,000 Razorback guitars that had been sold. It has become Vince's signature guitar. His passion for the Dean Dime 10K guitar became the focal point of his band and the guitar is featured prominently in all of Wireless Soul's advertising and promotion. Vince is featured monthly in Illinois Entertainer Magazine. Vince's goal, with his band Wireless Soul, is to bring rock and metal back to mainstream America by indoctrinating the next generation to this powerful musical genre.
Vince recently completed Wireless Soul's debut CD which includes sixteen cover songs by some of his favorite rock and metal artists. The goal of the CD was to pay homage to his idols while also helping to expose an entire new generation to the legends of rock and metal who have paved the way for all who have come after. This anthology features songs written by Black Sabbath to Avenged Sevenfold and many more legends in between. Vince is already working on the follow up EP which will include all original songs written by Vince. This EP is expected to be released later this year.