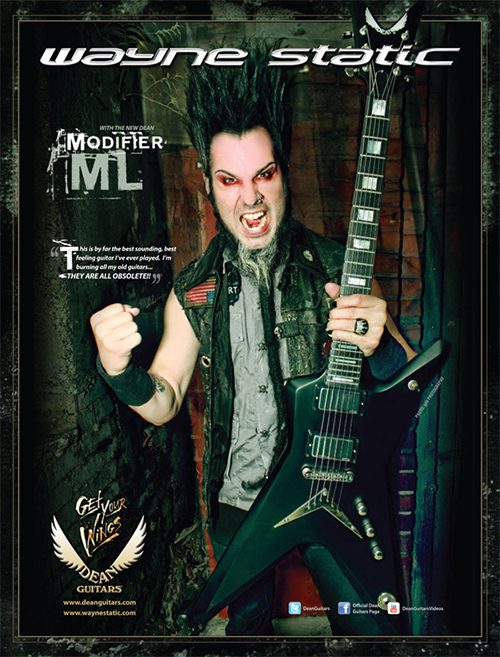 From Joshua Maloney: Dean Guitars Director of Artist Relations
The world lost a great human being and one hell of a musical talent this past weekend, with the untimely passing of Wayne Static. Wayne was one of those guys you just knew was real, the moment you met him. The passion, with which he spoke about music and life, was enough to inspire you to want to get off your ass and get moving! I feel very fortunate to have gotten to know him and spend some quality time with he and his lovely wife Tera.
I remember him doing a NAMM Show appearance, for Dean Guitars, and being blown away by how people reacted to him and how many fans he had. He took the time to speak to every single one them, as long as they liked. Wayne was the real deal, in an industry often plagued by insincerity and fake smiles, he was real. The entire Dean Guitars family is deeply saddened by his passing.
He was a great person, friend and artist. He'll be missed for years to come………Rest in peace buddy!
-------------------------------------------------------
Wayne Static is the enigmatic former frontman and namesake of Static-X, now forging a successful solo career.
Wayne Static is considered the Terminator of contemporary rock music with his signature blunt-force-trauma melding of industrial rock, thrash metal, and futuristic disco, which is nothing if not cybernetic. But when you look back at Wayne Static's 14-year legacy, the comparison goes beyond the music; having weathered musical trends, survived lineup shifts, and even severed long-time creative partnerships to emerge as a streamlined metallic machine.
Wayne's career started with Static-X and their breakthrough debut, Wisconsin Death Trip. Static-X has sold over three million records, and they've completed numerous successful world tours including three Ozzfests, The Family Values Tour and Gigantour.
Static's recording history is most impressive starting with Cult Of Static released 2009, debuting at No. 16 on the Billboard charts and sold well over 100,000 copies in its first cycle, while Cannibal, which was released April l 3, 2007, debuted at No. 36 on Billboard's Top 200 album chart, selling more than 30,000 its first week out and solidifying the band's place as one of metal's pre-eminent artists. The album has gone on to sell more than 160,000 copies.
Static-X first burst onto the metal scene in 1999 with their platinum-certified Warner Bros. debut, Wisconsin Death Trip, followed by the gold-certified Machine in 2001. From 2005's Start A War onward, the quartet had grown tighter, busier, and more road-ready than ever. "Our touring just got stronger every year," frontman Wayne Static says, "and our fans knew we were always going to deliver."
In July 2007 he announced the beginning of a side project, Pighammer, but in a December 2007 interview with Ultimate-Guitar.com, Static stated: "The Pighammer thing will happen when I have time. At the moment though, Static-X will remain my main priority."
Pighammer was finally realized and released on October 4, 2011, marking Wayne's first solo effort. He formed his own backup band as part of the project, and it was this new lineup that would later tour 2012 as Static-X. Wayne confirmed that the former Static-X had disbanded in June 2013. According to Static, the disputes between himself and the band's former bassist Tony Campos over the rights to the use of Static-X name have gone way too far, forcing him to disband the four-piece.