Demonator 4 - Chaos
The Demonator 4 is the signature model of Morbid Angel's bass player David "Evil D" Vincent. This wicked instrument of torture was custom designed by Evil D and Dean Guitars to fit the dark agressive playing style of the band. Featuring a Mahogany Top and body, a 34 scale length, Brass Nut, a Set Mahogany C Neck, a Rosewood Fingerboard with Abalone/Pearl Spire inlays, a Pearl Chaos Custom 12th Inlay, Grove Tuners, Black Hardware, a Tune-O-Matric Brige and DMT Design Active EQ Pickups,
Inlays
Spire w/Chaos 12th Fret
Pickup (Bridge)
DMT Design
Due to Dean's commitment to ongoing research and development, product specifications are subject to change without notice. In some instance, the product pictured here might vary slightly from our products in the marketplace.
Watch a Video
See also...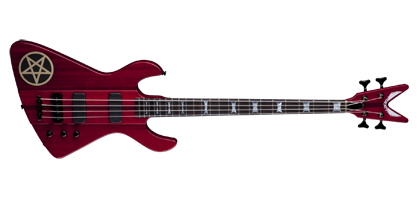 USA Demonator 4 Ultimo Limited Run 25 Pc