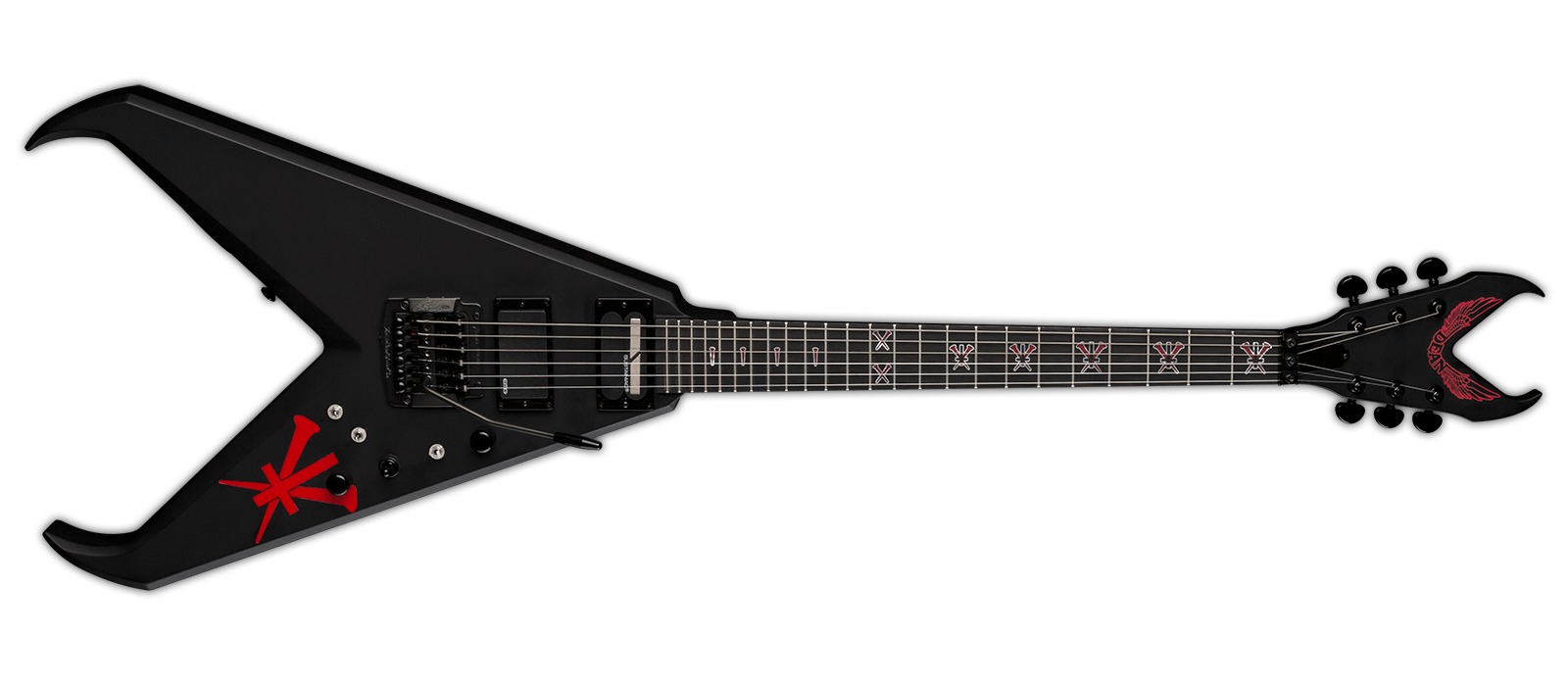 usa kerry king V Limited Edition – 50 Pc 
 MSRP $11,555.55
$8666.00
Dean Guitars is honored to present the Kerry King V Signature Guitar. Kerry King, Slayer's founding guitarist, is one of the most instantly recognizable and revered musicians in the industry. Over the past 40-years his brutal dominating riffs wrote the history of Heavy Metal, making Kerry one of the most respected guitarists on the planet. The Dean USA Kerry King V Signature Guitar is the pinnacle of craftsmanship, completely handmade in the Dean USA Custom Shop in Tampa, FL. Created as an all-new, unique Dean design, with a remarkable level of precision, the Dean USA Custom Shop team paired an instrument-grade mahogany body with a North American maple top, painted in a stunning satin black finish with a gloss red Kerry King sigil. A 3-piece maple neck-thru design with a Kerry King Spec. 24.75 scale length, and a C neck shape. 24 jumbo fret, Ebony Fingerboard with detailed hand-crafted pearl, stone & ebony custom inlays accompanied with ultra-vibrant LED fret markers along the side. The electronics feature the amazing Sustainiac neck pickup and an EMG 81 with PA2 Preamp Booster pickup at the bridge. Completing this iconic guitar is Kerry's own signature Kahler KFK Tremolo system. Limited to only 50 pieces, the Dean USA Kerry King V Signature Guitar comes with a customized Hardshell case, and a custom leather- bound Certificate of Authenticity signed by Kerry himself. A legacy instrument worthy of being held and played by you. 
ARTIST QUOTE
"I'm super stoked to be part of the Dean Guitars family. This has been an insane long time coming! Together we're going to create some amazing guitars that Dean, Slayer, and Kerry King fans will be as excited as I am to play them. It's gonna be a wild ride for years to come!" – Kerry King
Find a Dealer
Find a dealer in your neighborhood to get started with your order.
Stay Connected
Get our official newsletter for news, updates, and special offers.